Our turbochargers are ported and blueprinted to be the best performing turbos you will ever use. We also polish the compressor housings to a show-quality standard which is complementary with every Signature Series Turbocharger we deliver. The difference is in the details here. To your left is what a 1800 HP turbocharger looks like from us. Clean, & very mean!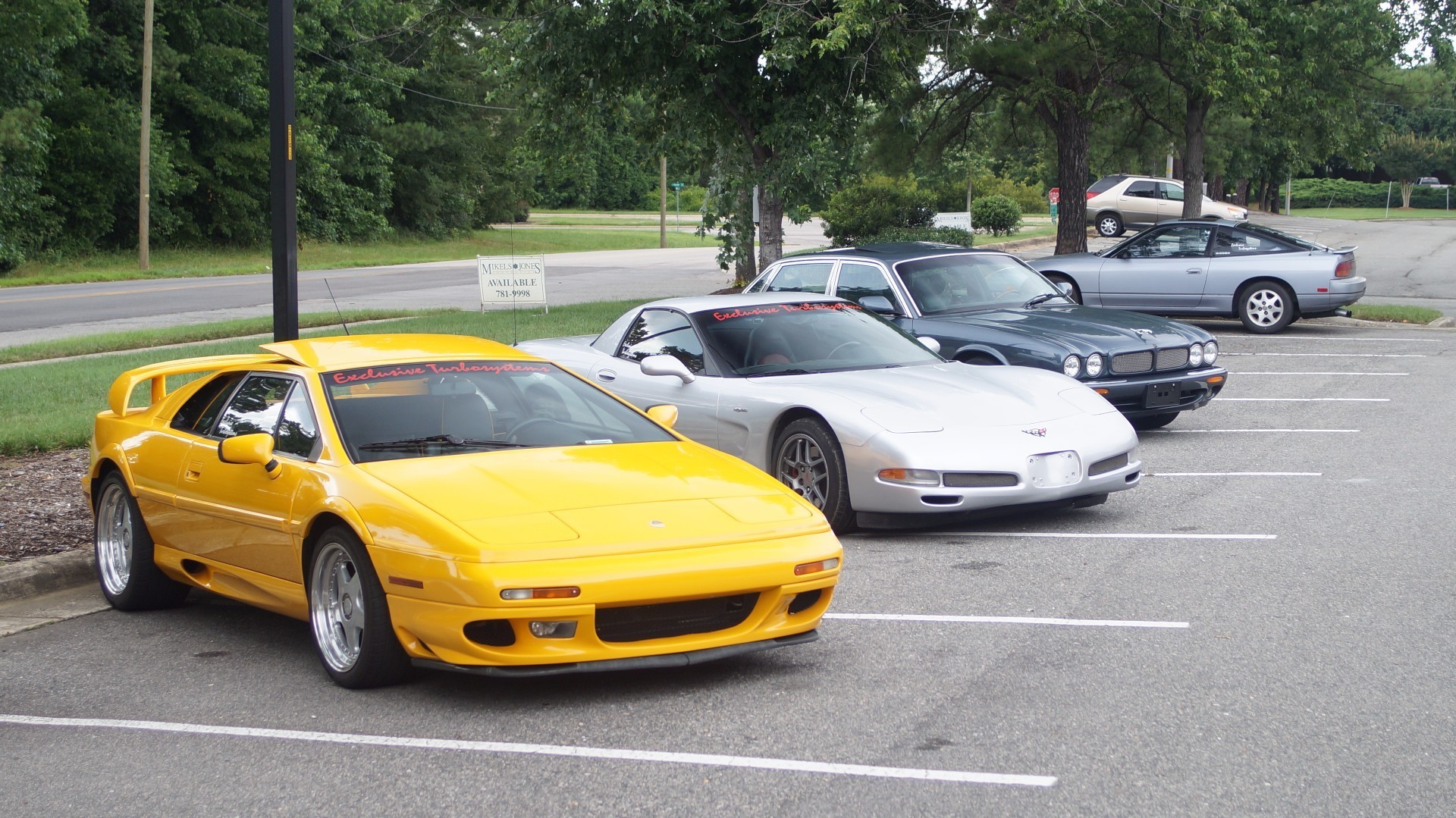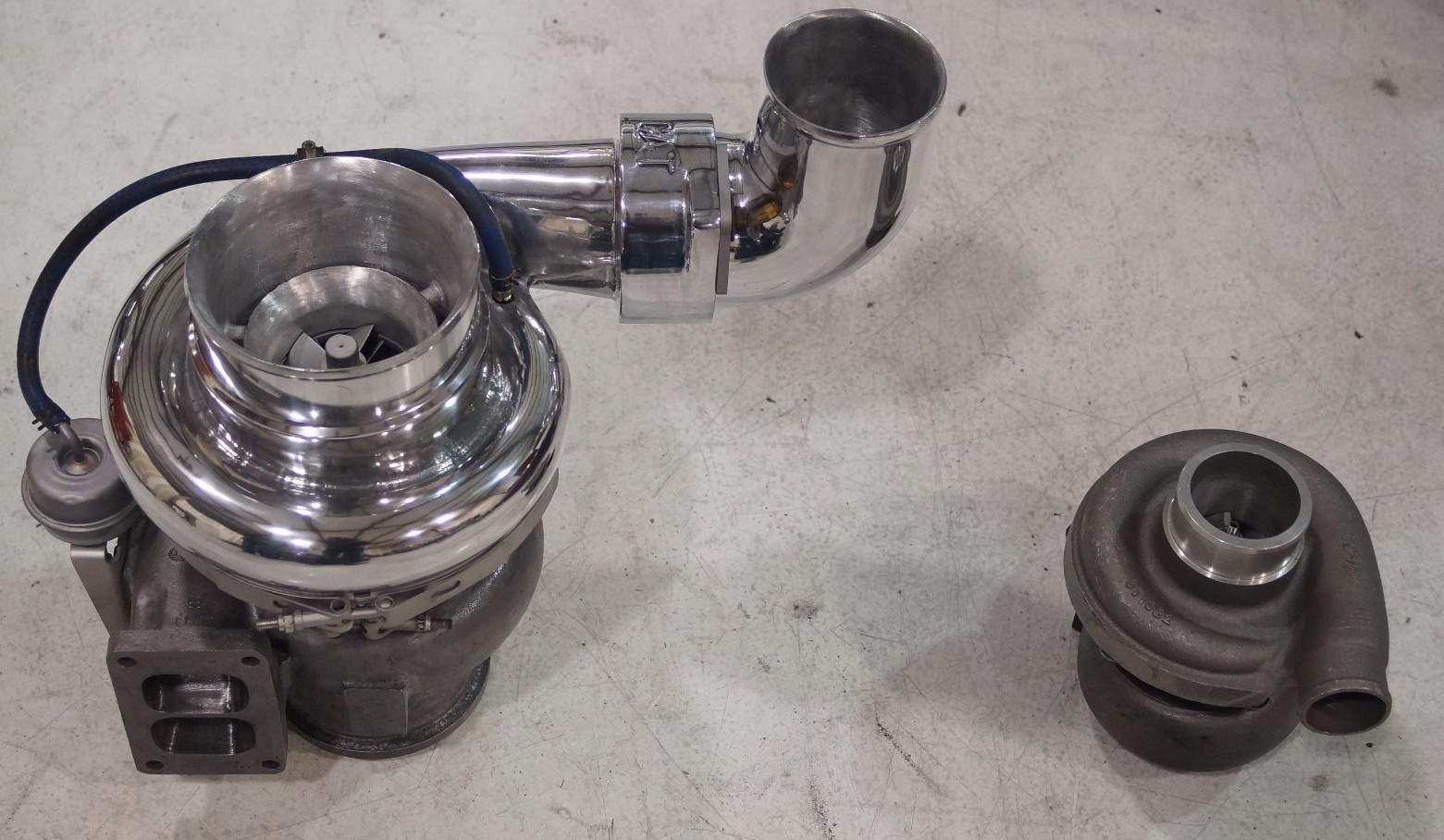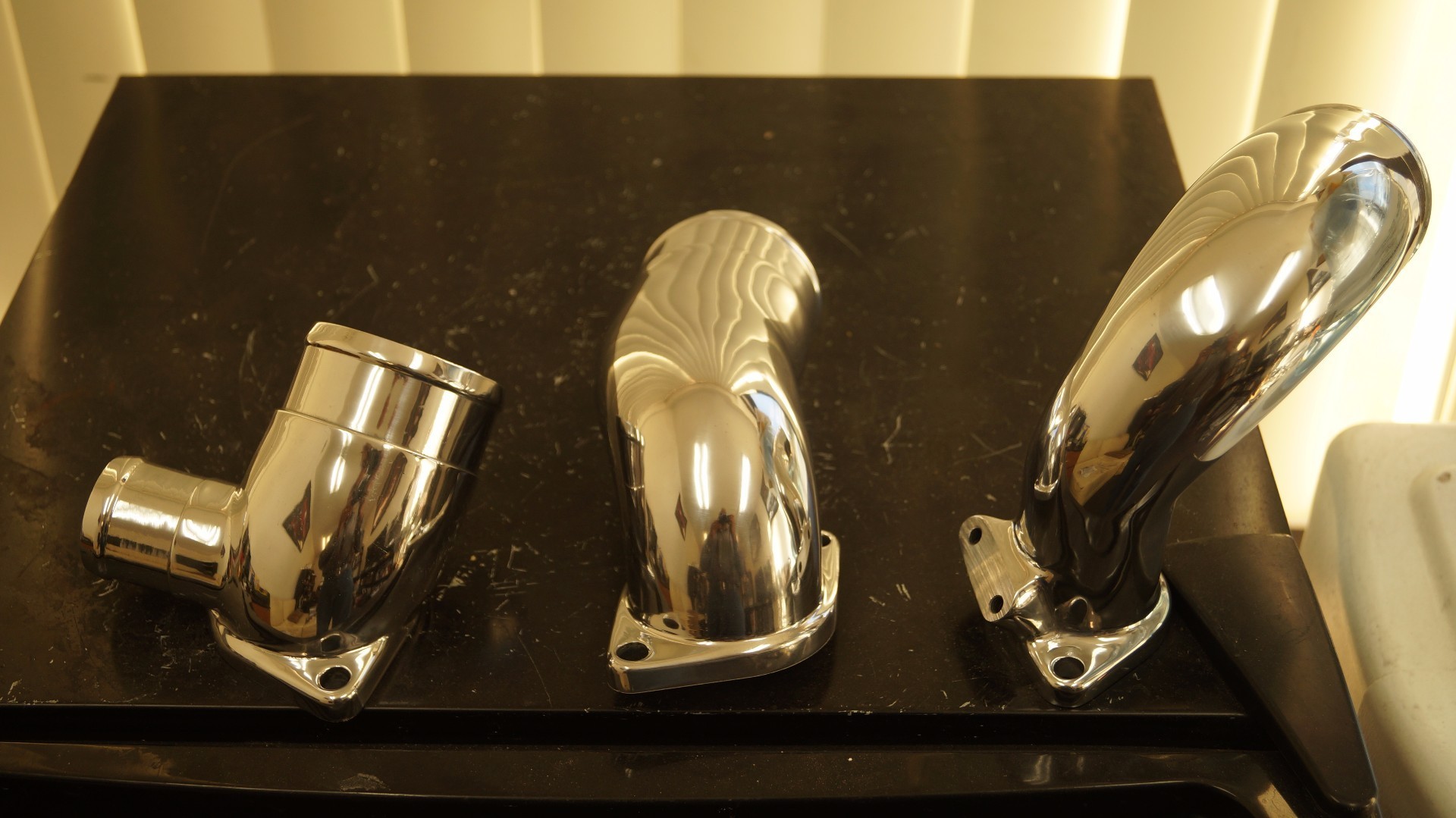 Show-quality polishing that takes on a 'liquid-metal' appearance. Just the ticket for the domestic V-8 hot-rod or tuned import that is looking to stand out in a crowd. Car shows or track days. We invest the time, so you can take the credit. Our reward is in the feedback from your success and enjoyment.
The polished castings on the right belong to an R32 Skyline GTR. These OEM castings are ported internally as well for a nice performance improvement to go along with the distinct 'eyeball' appeal. World-Class, through and through.
We can perform our 'magic' on most any size turbocharger. From the most common 300 HP - 700 HP performance upgrade turbochargers to the specially built 1000 HP to 2850 HP monsters we offer, we have experience delivering all types of turbochargers. Tractor-trailer turbos needing to be upgraded for better over-the-road efficiency are right up our alley as well. We have the components and know how to make it happen. Pictured left is a 500 HP Borg Warner turbo and a CAT turbo with a compressor section upgrade to deliver 50 HP more airflow over the standard C15 output and deliver 10 - 15% more torque for steep grades and heavy trailer loads. Just what is needed by the typical Owner-Operator looking to spend less on fuel and carry larger loads in safety. A true bolt-on upgrade as well.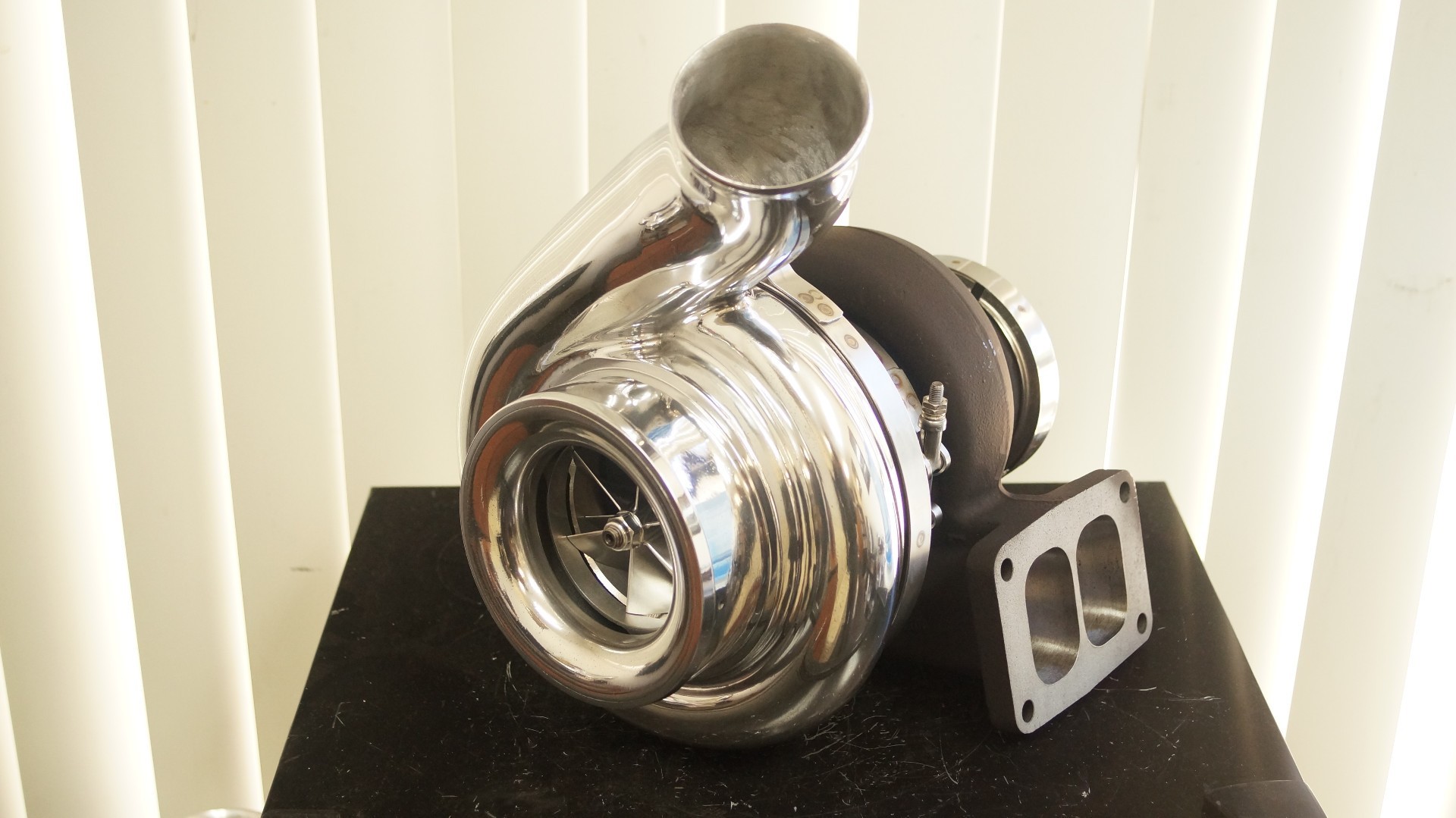 Our experience with a vast array of vehicles includes ownership of most of the manufacturers shown here. We also have service experience at the OEM level with Porsche, Lotus, BMW, Mercedes Benz, Audi, Volkswagen, Acura, Jaguar, Saab, Volvo, Subaru, Honda, Mini, Mitsubishi, Mazda, Toyota, Chevrolet, Chrysler, Ford, and Hyundai. We have rebuilt turbochargers and upgraded even more with great success. Specifically we've performed a turbocharger upgrade (in our shop) on a Chrysler Conquest, Mitsubishi Eclipse, Porsche 924 Turbo, Callaway Corvette, Porsche 944 Turbo, 2006 Freightliner, GMC 3500, Dodge 3500 Cummins 24V & 12V, Volkswagen Jetta, Nissan 240SX, Toyota MKIV Supra(s), Mitsubishi Evolution, Subaru STI, Saab 9-3, Porsche 911, Buick Grand National, Honda S2000 (custom turbocharged), BMW 745i, and a Toyota MKIII Supra to name a few.
This is where some of the best turbochargers are built and sold. We use only quality components, the latest aerodynamics for compressor wheels, and proven techniques for improving turbocharger durability and performance. We are an Old-School approach 8-year company driven by a simple motto, 'to make each turbocharger as good as we possibly can for the performance enthusiasts around the world.' Our finished product is World-Class and out-performs the competition while looking good. With our turbos, form follows function so you can see that our turbos perform as well as we claim, usually better. We believe in offering fully massaged turbochargers for essentially the same price as our competitors to offer a true value to you, so your time behind the wheel can be extended and enhanced while the wrench time is reduced. It takes a committed work ethic to produce end results like those pictured on the following pages. Exclusive Turbosystems has been an innovator in turbocharged performance for several years. From the various turbocharger combinations we offer to the ported and polished intake manifolds we have delivered. Many one-off projects have taken on a unique personna which the owners appreciate.
Our workmanship is what we are most proud of. The gallery of pictures below is just a small sample of some recent work we have delivered. These are client's parts, turbos, and custom components we have fabricated, built, and polished to our standards. So where did these particular jobs come from? South Florida, Central Florida, Ohio, Texas, and Australia. Near and far is where we have had work come to us from. The quality is always the same, no matter where it ends up being delivered, or installed and enjoyed. We are proud of each of the turbos we have sent out, as well as each manifold and polishing job we have been trusted to complete. The owner of this company got started polishing years ago just after the Fast and Furious movie series began, and the reputation for that finish and quality standard continues with each turbocharger and component to this day.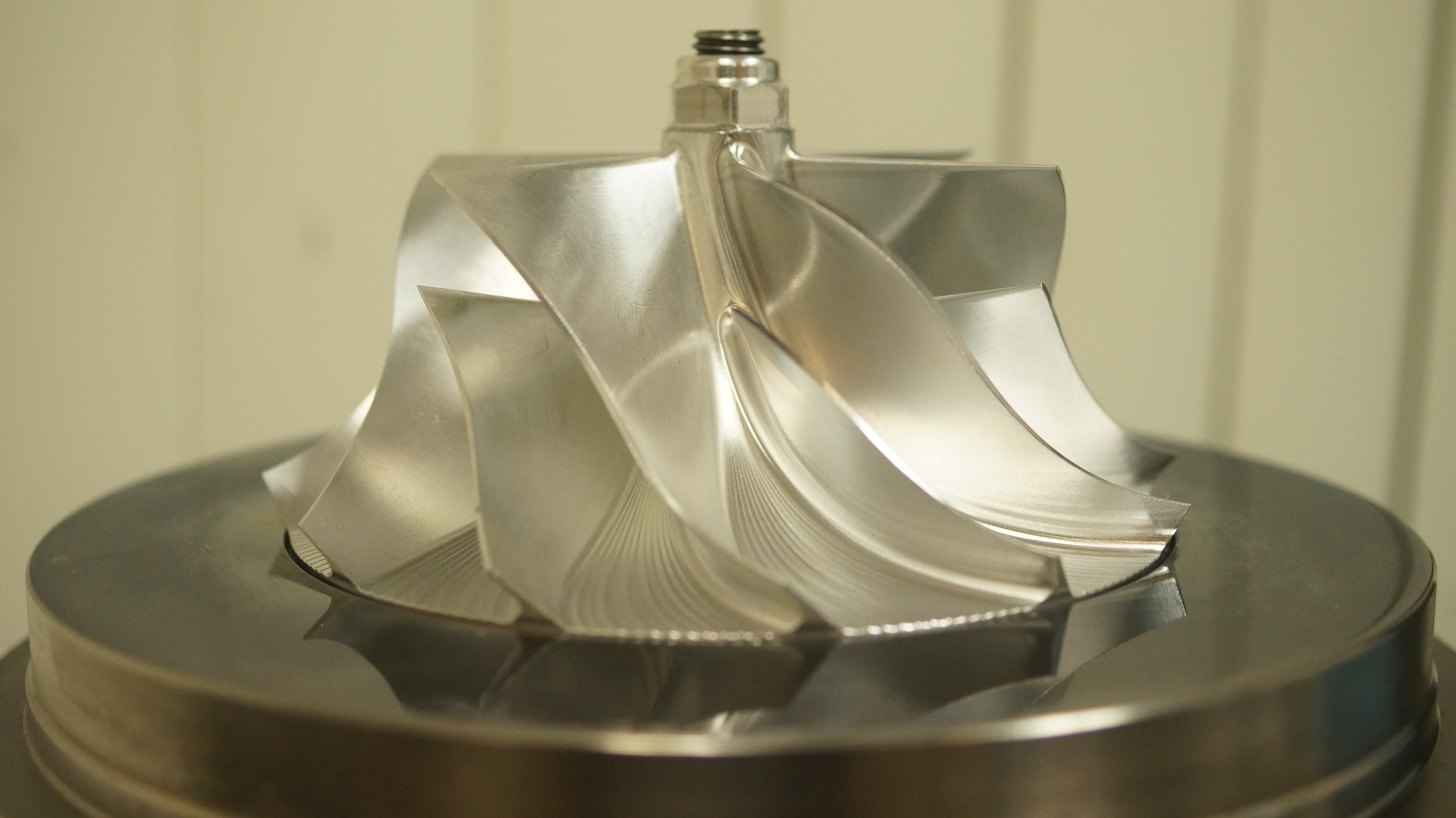 Most of our signature turbos feature advanced compressor wheel designs to complement our housing preparation, porting and modifications. CNC-machined aerospace-grade, billet aluminum T-6 alloy compressor wheels, are very much our specialty here at Exclusive Turbosystems.
Pictured above is a turbocharger compressor housing we modified to mimic the famous 'HKS KAI' turbo. This particular compressor inlet modification provides 'anti-surge' compressor wheel protection, increases efficiency and makes a very distinct 'howl' which is unforgettable.
One of our 'COPPERHEAD-R' turbine housings fresh off the porting bench. Better gas flow, power, and faster turbo response are the results. This is what we do to every 'Signature Series' turbo exhaust housing. Peak turbocharger performance, as a standard level of preparation, a daily operation at Exclusive Turbosystems.
Signature Series Turbochargers
Custom Polishing Services
Performance Tuning/ Custom Builds
Turbocharger Rebuilds & Upgrades
Turbocharger Rebuild Services
& Custom Turbochargers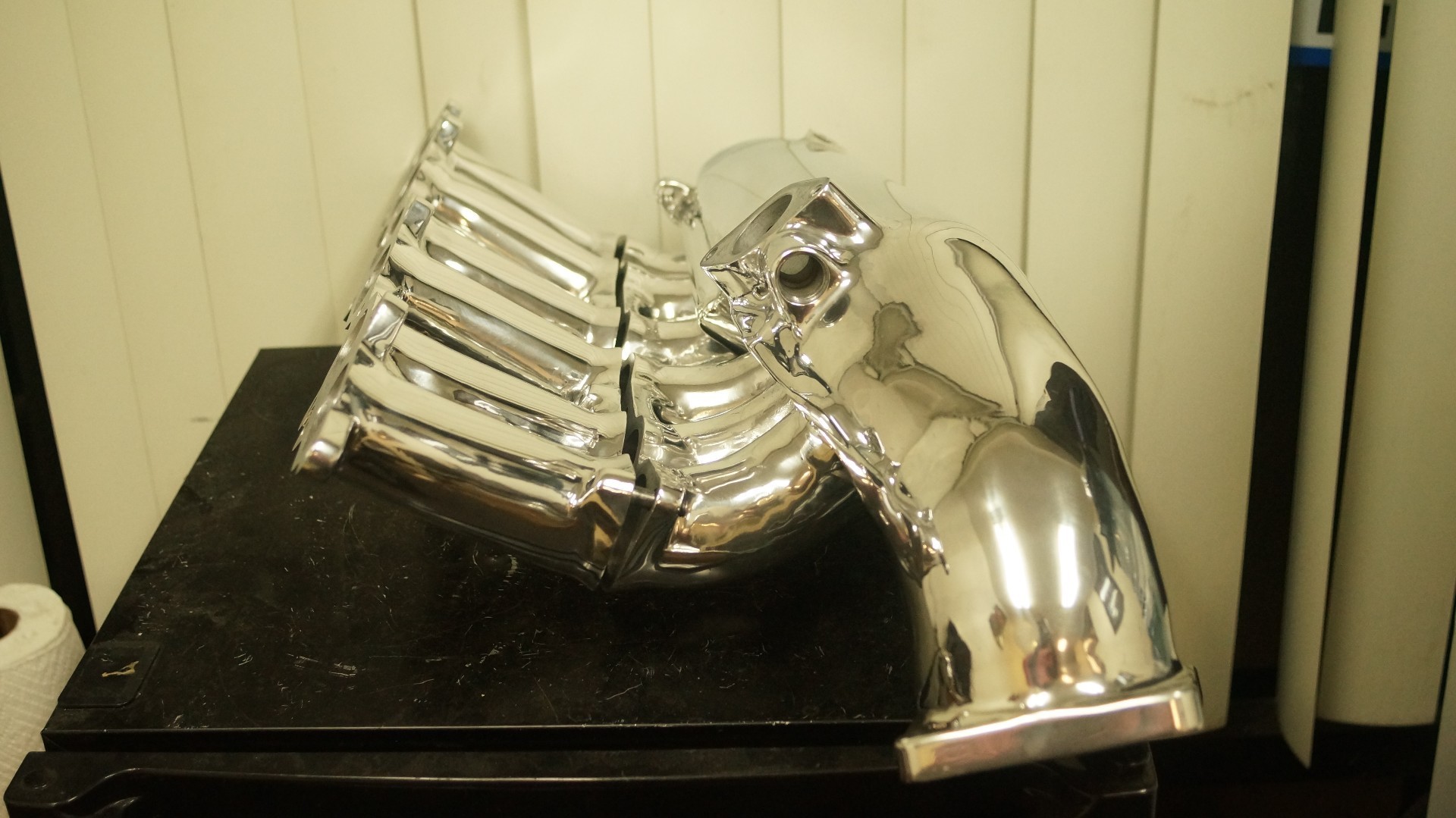 Welcome To Exclusive Turbosystems
No, this isn't a special order turbocharger. This is how ALL of our Signature Series' turbos are delivered. This GT35R has fully ported housings and a polished compressor housing. The benefits? Faster response, more power, cleaner appearance, lighter weight. That's a win, win, win, win. A perfect recipe for improved vehicle performance and a better boosted day behind the wheel.
Contact us directly at (919) 227-9820 for a free consultation session with our custom turbosystem design expert. Our full service for turbocharger repair gets you back on the road and back to work or play quickly. Feel free to email us directly at fullboostbillhpp@yahoo.com

Business Hours:
Monday - Thursday 10am - 8pm
Friday - 10am - 7pm
Saturday - CLOSED
Sunday - 11am - 6pm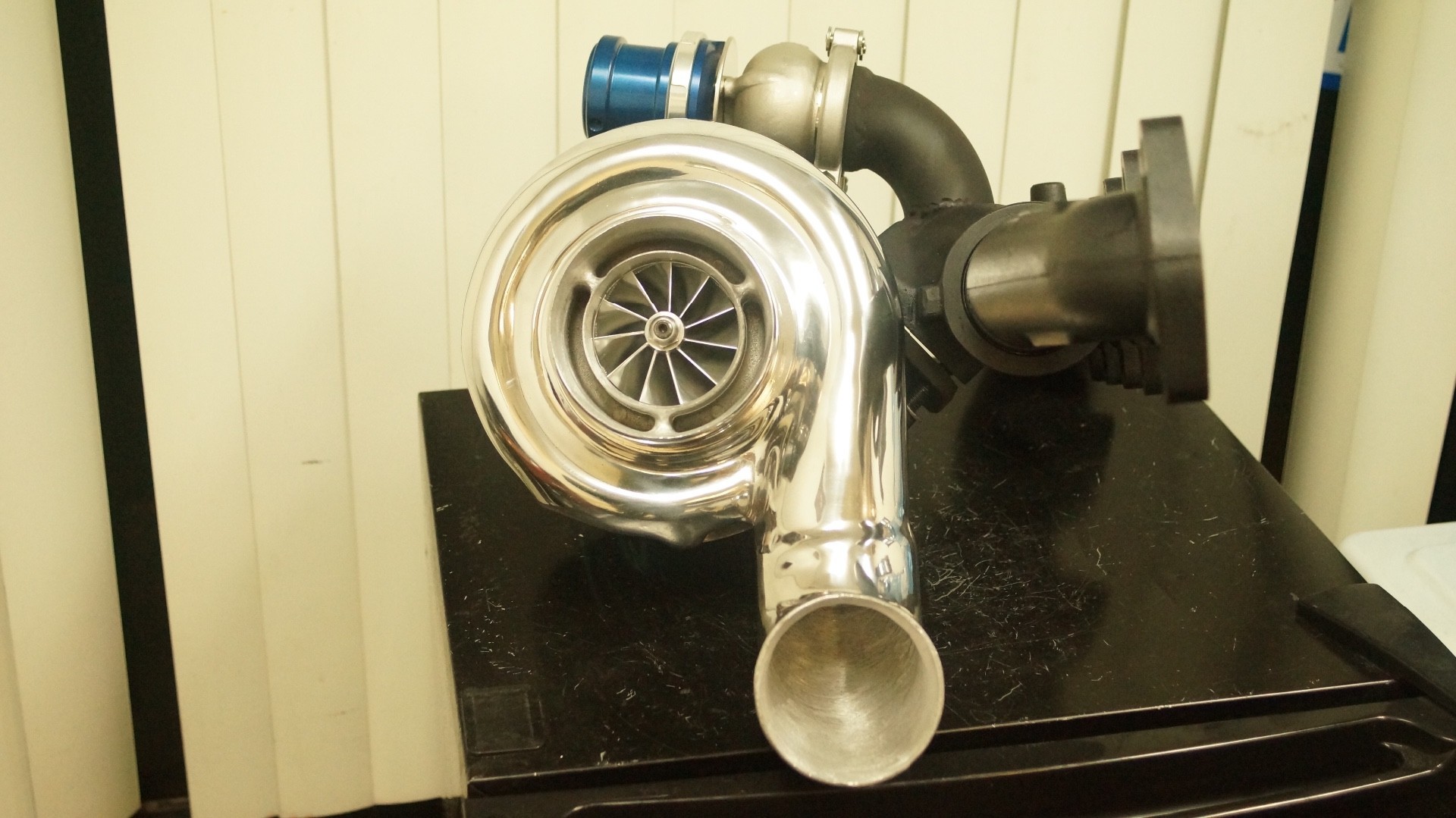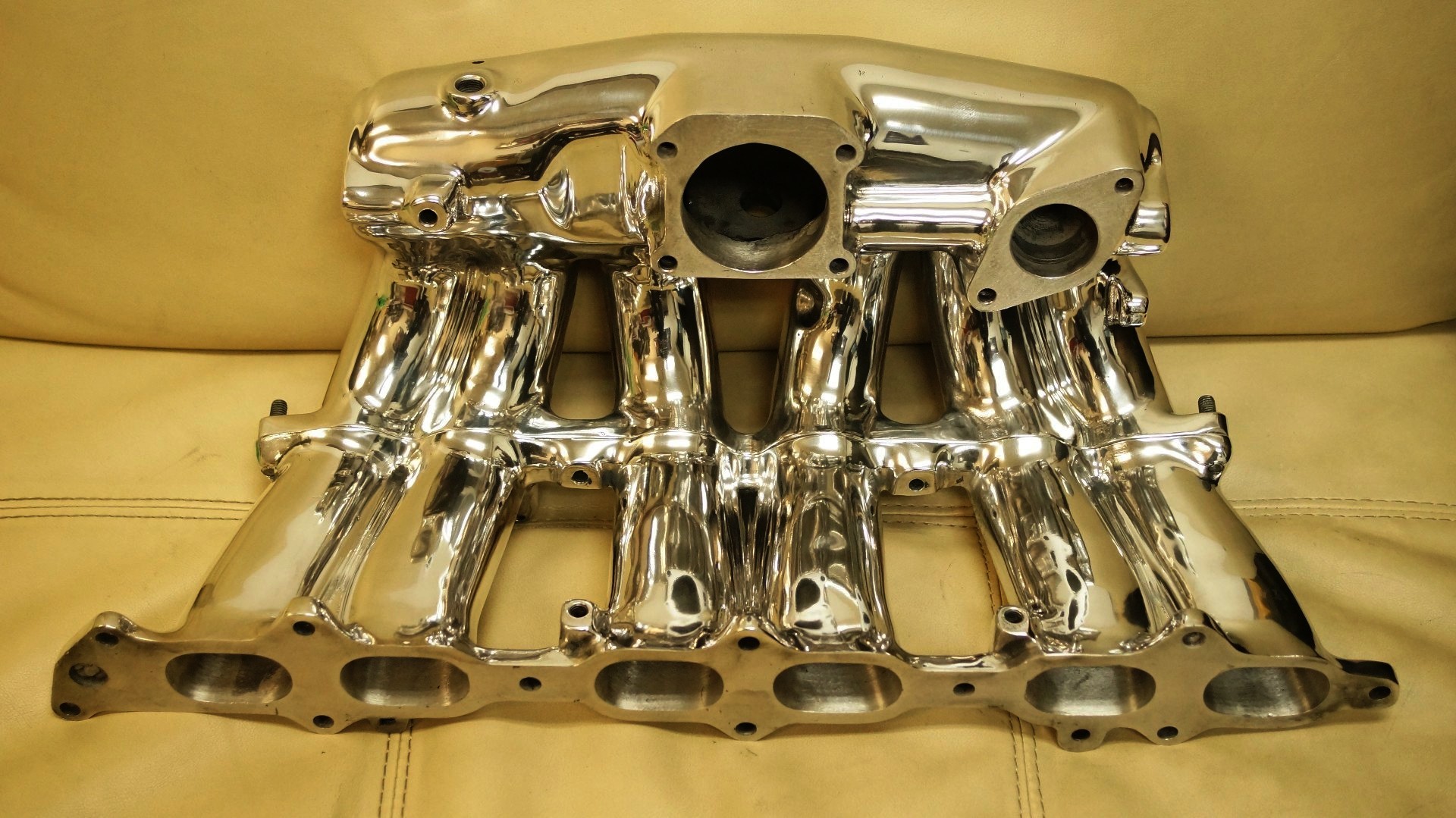 Each engine build begins with a detailed consultation to determine the engine operating parameters and goals. The next step is a computer software simulation session to ascertain exact port flow and engine component specifications needed to meet the output goals. Our camshaft profiles and valve specifications are key to the robust HP and torque outputs of our engines over the years. Generally speaking, there are no standard builds here. That we reserve for race engine programs where we prepare multiple engines to the same set of blueprinted specifications.
Our cylinder head and manifold porting has been requested for years. Each porting job has its unique approach. We are experienced enough to know that velocity is critical to cylinder filling and engine acceleration so the volumes of the ports are closely regulated. Each port is meticulously altered to form the best overall shape, contours, and surface finish to yield the best fuel mixture flow. We are proud to boast that every porting job undertaken has either met or handily exceeded the quoted performance gains. Our porting always makes the power we claim.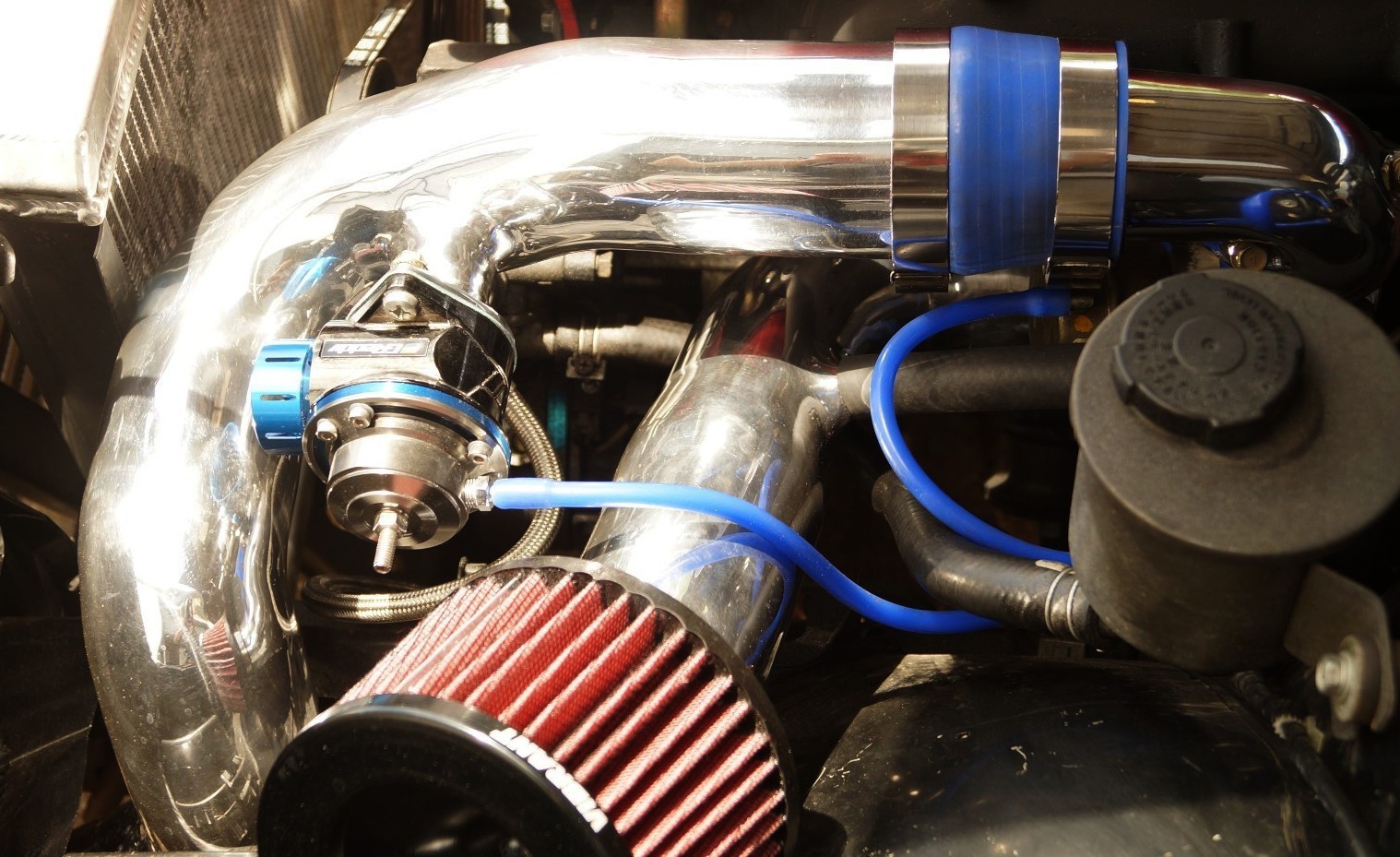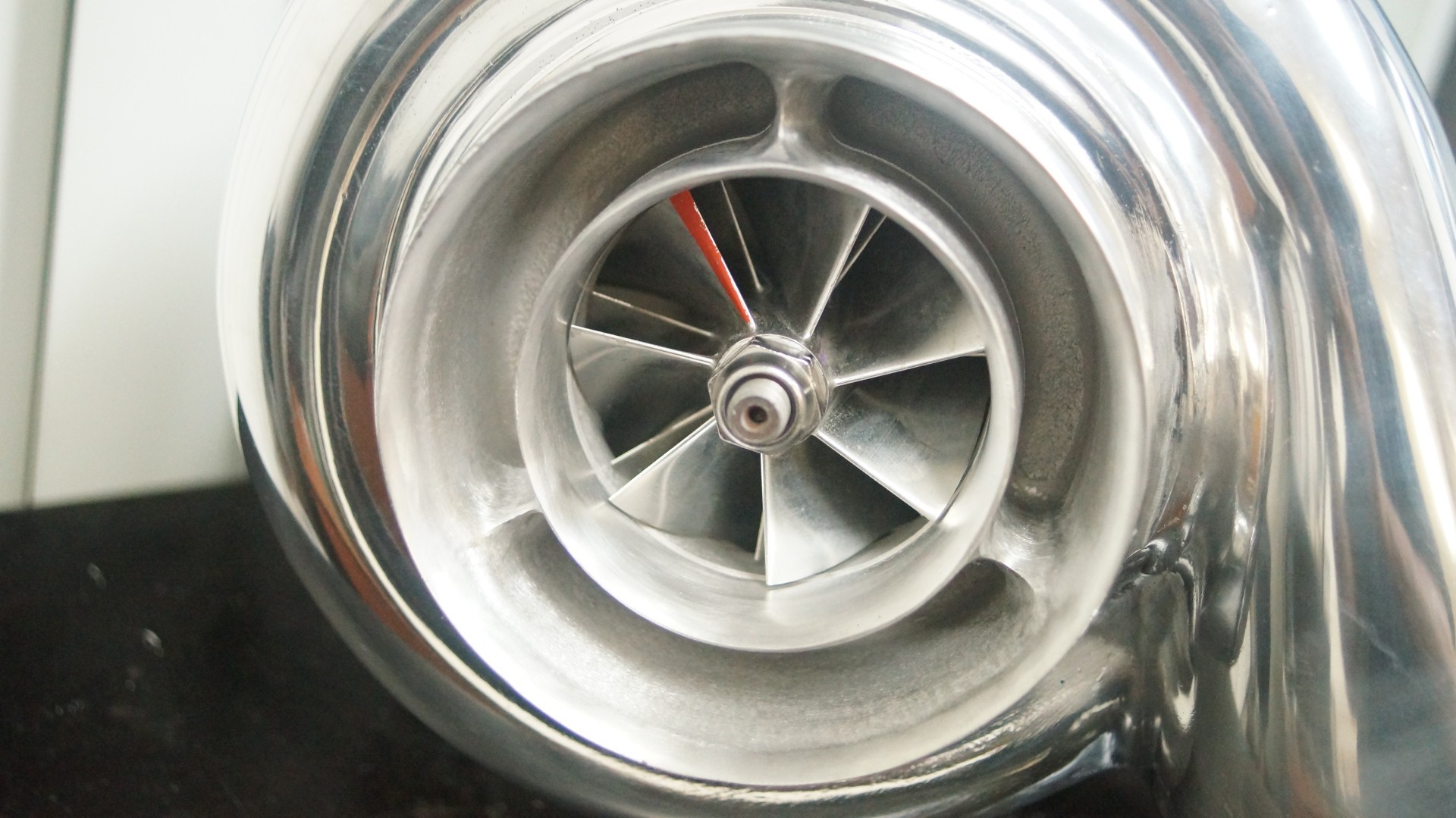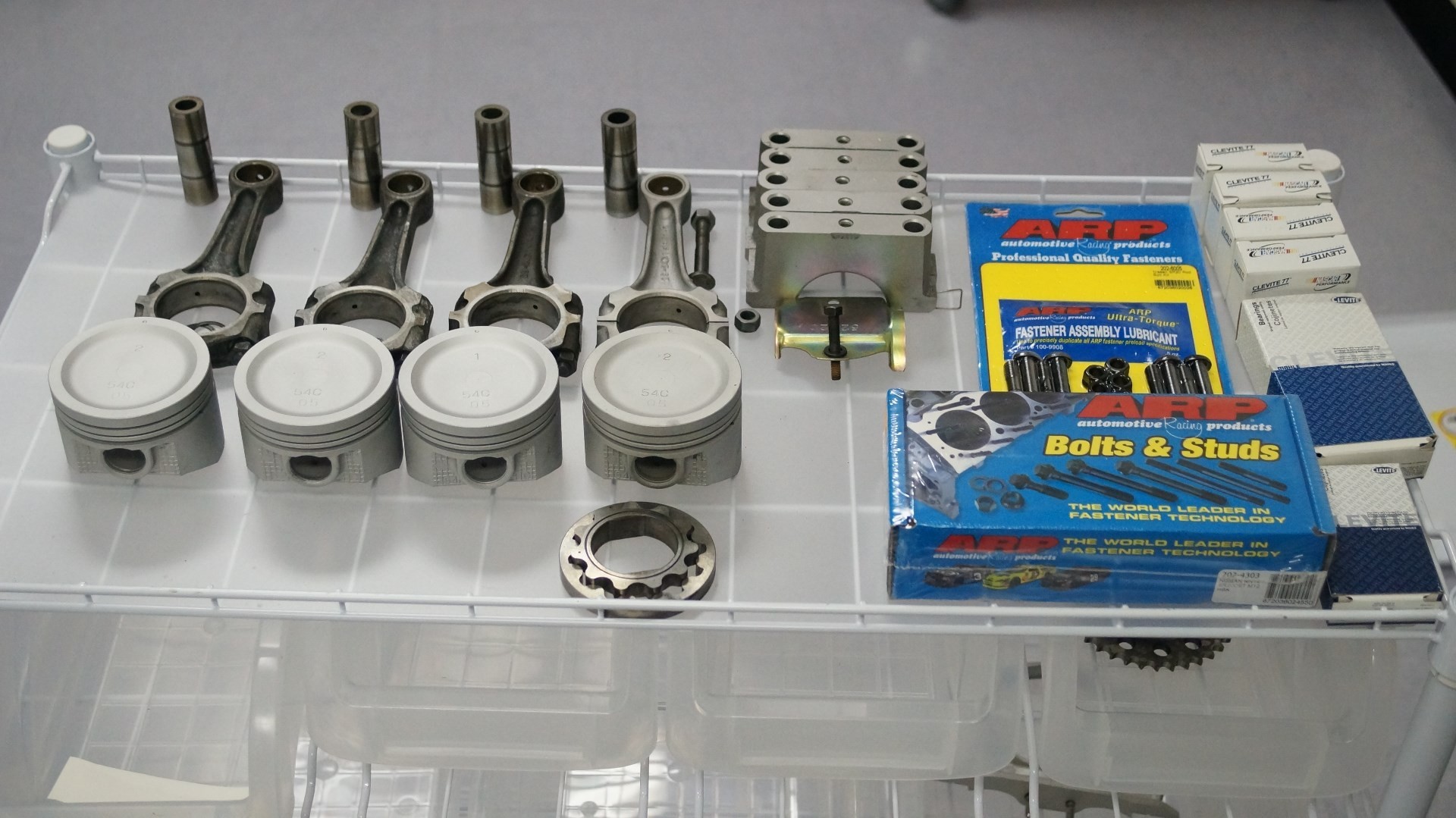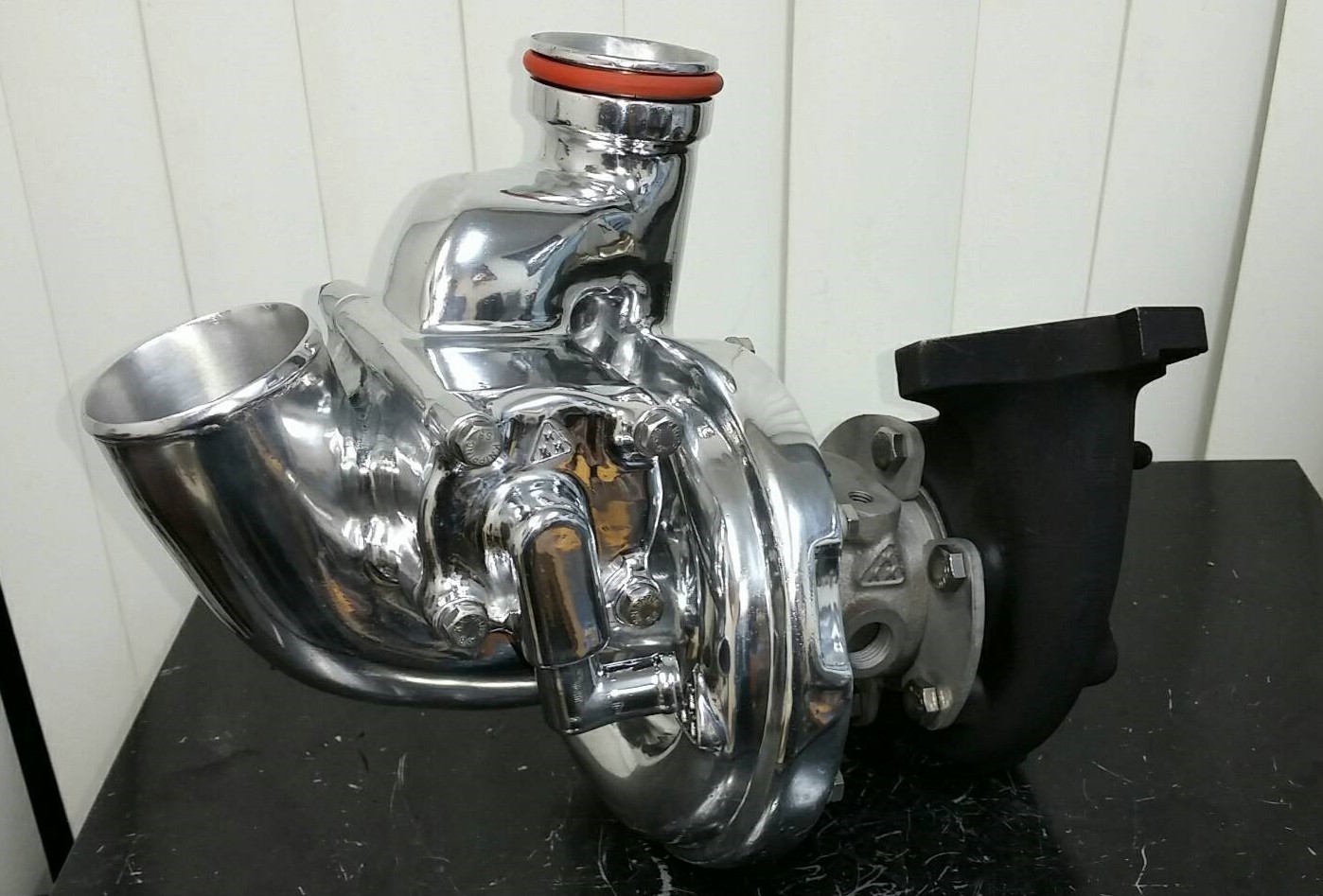 The critical rotating assembly work we do is geared towards improving engine component strength, reducing friction wherever possible, lowering internal stresses, and elimination of excess reciprocal weight & mass. For example, we can machine away excess material from the crankshaft to reduce mass and profile the counterweights for reduced windage and reduce inertia of the shaft. We have special procedures for dressing the oil drillings in both the crankshaft and bearings to improve oil delivery to the bearing journal surfaces. Special coatings applied to the pistons and gudgeon pins lower the chance of galling and metal-to-metal contact. All of these can be applied to yield ultra-low friction of the rotating assembly for better engine acceleration, durability, and power to the wheels. The block prep below is for a Nissan SR20DET.
Our engine blueprinting includes stress-relief of castings, replacement of the critical engine fasteners like the connecting rod bolts, head bolts, and main bearing cap bolts. These are replaced with higher-tensile strength (ARP) fasteners and upgraded to studs for both the head and main caps. Piston weights are matched to a tolerance of .5 grams, as are the connecting rods. We have techniques for improving oil pump delivery, lubrication flow improvement, and cooling efficiency enhancements in our engine asssemblies. Connecting rods are either upgraded or shot-peened and polished, which is carried out over the entire connecting rod exterior.
Our doors were opened in 2011 and the shelves were stocked with components and parts for building high-quality forced- induction vehicles of varying types. Above is just one of the cabinets we filled with turbochargers, wastegates, fuel pressure regulators, and other turbo control devices. As a stocking distributor of the well-known Turbosmart product line, we have these devices on hand to fabricate a top-performing turbo system for most any car, truck, or motorcycle. As you might expect, there are plenty of turbochargers on-hand to fulfill a need presented to us. From a 700 HP Borg warner S360, two 550 HP Garrett T4/T3 hybrids, a 76mm 1000 HP capable T4, to a matched pair of 500 HP ceramic ball-bearing billet compressor Mitsubishi TD05's, there is quite a variety of applications we can match from what is pictured in this case alone. Below we have some Borg warner turbos we have ordered in to turn into our NINJA and CyBorg 'Signature Series' turbos, and a few of the Garrett turbine shafts we have on hand for BLACK MAMBA turbos along with some other turbine shafts in stock. Our turbos are built from the best quality platforms and custom-built to our unique specifications from trusted, high-quality components. These American-made turbocharger (cores) and components are precisely why our turbos are both highly capable AND durable.
Not all 'built' engines are created equal. Simply installing a bunch of aftermarket parts in an engine block does not qualify as being built. That, is simply assembled. We believe in improving the blueprint specification in the block where possible, eliminating stress-risers in the factory castings, and improving the fluid flowing passageways within the short block on top of upgrading the rotating assembly components and critical fasteners. Lowering friction wherever possible, and getting better volumetric efficiency out of the cylinder head and manifolding is hugely important here. These are the hallmarks of powerful and durable engines that can be counted on to deliver mile after mile, after mile. We are not interested in building 6 engines per week. Just one at a time and only once if possible, especially for the street. Our engines last because of the time, effort, and care invested in a very meticulous blueprinted assembly process after their sub-assemblies are prepared. We port each cylinder head IN-HOUSE, setup the camshaft(s) to specifications (usually that we have worked out in computer-aided simulations) for optimal performance, modify the oil pumps and lubrication systems or upfit a dry-sump system, and make sure each machining operation is exactly carried out to the blueprint specifications. Each one undertaken is uniquely designed and the specifications can vary based on the arena of competition, governing body rules, fuel quality available, and the type of aspiration. The goal is to build your engine just once. It is, after all, the very heart of your vehicle. How many times would you like to perform open-heart surgery?
Most of the engines pictured below are research and development long blocks, three of these are client builds, the Supra 7MGTE, Eclipse GSX 4G63/4, and the Acura LS/B20. The BMW M30 is actually a European factory 3.5l turbo engine, with a Subaru 3.0l H6 engine and JDM Supra 2.5l 1JZGTE beside it. Behind these are another Subaru 2.5l flat-4, a Honda 1.6l turbo engine, and a Isuzu 2.2l 4-cylinder. At the extreme right is a JDM Nissan Skyline engine being built with a stroker crankshaft and upgraded valvetrain and camshafts for 10,000+ RPM and 1000 HP. This variety of manufactured engines shows that we don't discriminate with our engine building programs. Our development goals are for improved performance and durability within the client's planned Motorsports useage parameters, no matter which engine is being used. We thrash out different techniques on internal shop builds to make sure that engine component wear, component running clearances and performance dynamics are well within blueprint specifications before being put into use in a client's build. We work very closely with our engine component suppliers ARP, Supertech, Venolia, Pauter, Wossner, Tomei, Skunk-2, CP, and Wiseco among others to pass on all the latest material, durability, and performance improvements the industry has to offer. Testing various block and head blueprinting improvements and component upgrade combinations BEFORE an engine package is assembled for a client.
Of course, every one of our turbochargers is balanced. If they weren't the first time you spun it up to speed it would come apart in spectacular fashion. This shows a balancing procedure on a modified Garrett turbine shaft and compressor wheel assembly. If any material needs to trimmed away to correct an imbalance of the assembly it is usually removed from underneath the compressor wheel near the outer edges or the turbine wheel in the same place, or possibly on the very outer area of the turbine 'nut' which is at the far right on this picture. These are the same areas usually trimmed for factory delivered turbochargers as they are delivered from Borg Warner, Honeywell-Garrett, KKK, Holset, IHI, Mitsubishi, and others.