Borg Warner makes excellent turbochargers and we have several 'Signature-Series' turbochargers based on a few of their products. We also sell them in an unmodified condition to those who would like to use them as-is. The EFR series of turbochargers have numerous high-tech features that are unique to the Borg Warner line and offer performance advantages that are at the lead of the performance aftermarket segment. The Airwerks Series turbochargers are very capable in terms of supplying high levels of airflow and boost pressures far beyond even most ball-bearing turbocharger designs. These are great turbochargers that are far more durable than some competitive designs have proven to be. Borg Warner has always used a very strong turbine shaft assembly as the basis for their turbochargers with large bearing structures to carry the shaft frictional loads. They have developed some very capable aerodynamic profiles for both the turbine wheels and the compressor wheels of their turbochargers. For a number of years it (more than a decade with their performance line of turbochargers) has been seen that both the response of their turbochargers and the airflow they can support has been a game-changer for the performance aftermarket. Many of their turbochargers will interchange with a T3 or T4 flanged turbocharger that is commonly used and easily adapted to as far as the fitment. This is much the case with the larger T6 flanged turbocharger offerings from Borg Warner. To add to this, Borg Warner turbochargers are so tough that they can be trusted to deliver much higher boost pressures reliably for year after year, after year.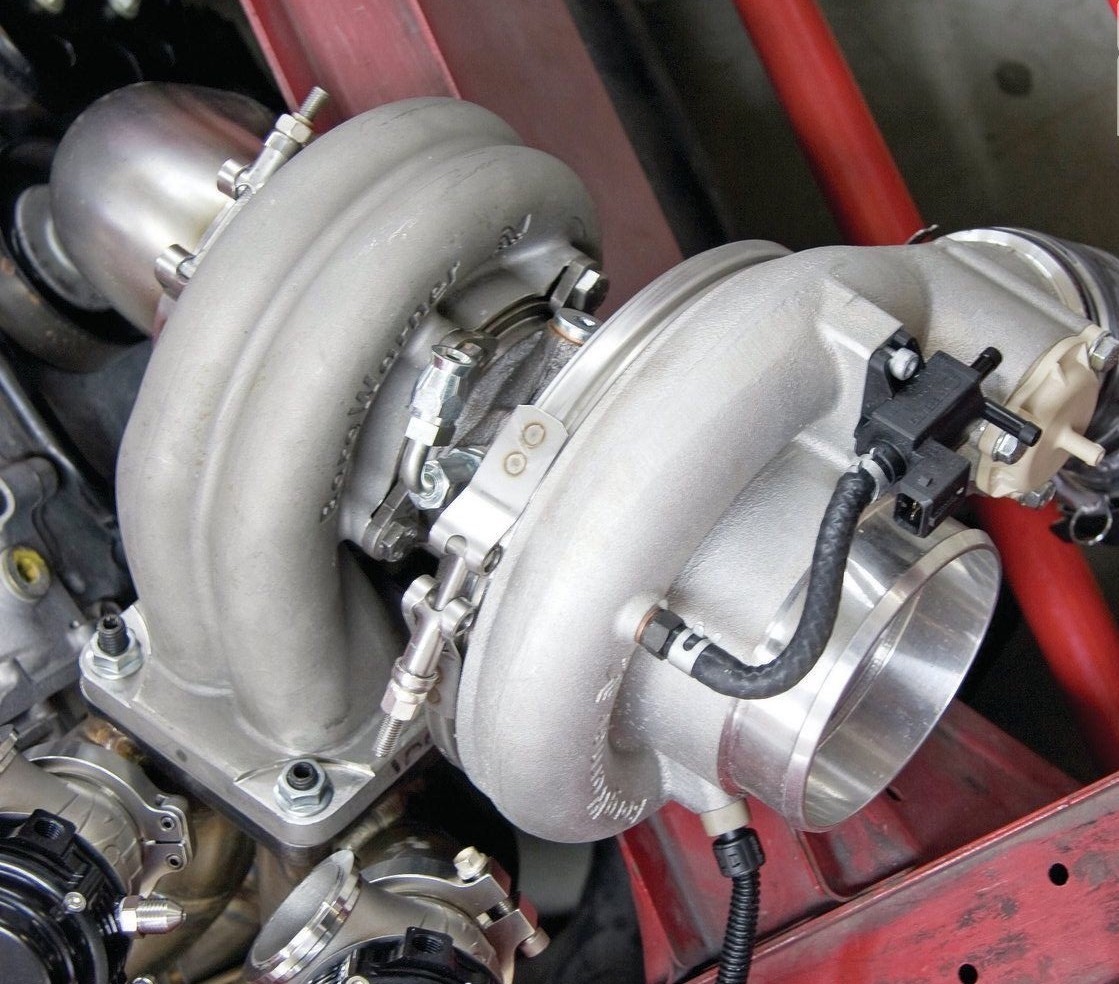 Borg Warner developed the 7670 EFR to deliver strong performance for the well-tuned performance engine with modest displacement, looking for up to 650 HP from a single turbocharger. With A dual ball-bearing supported Gamma-Ti turbine wheel and billet compressor combination, this turbocharger has the optimized core for delivering fast response and huge airflow. Both the compressor housing and turbine housing have a host of features to take full advantage of the lightweight turbine wheel and compressor wheel combination of the 7670 EFR.
The large diameter ceramic ball-bearing CHRA is the heart of this 7670 EFR turbocharger. It features a billet compressor wheel that is CNC-machined from a solid forged aluminum billet and offers an impressive 64 pound-per-minute airflow rating from just 57.2 mm of compressor wheel inlet diameter. With a 75% peak efficiency, this is compressor wheel moves a lot of air without requiring much shaft torque to get its up to RPM levels of optimum performance. This ultra lightweight compressor wheel is matched to a 70 mm Gamma-Ti turbine wheel that is half the weight of an Inconel wheel giving this 7670 EFR incredible responsiveness. Borg Warner supplies the bearing housing with coolant passages and multiple ports for plumbing the coolant lines through the housing. A pair of piston seals on both ends of the shaft keep oil from escaping into either the compressor or turbine housings. Wastegate diaphragm mounting holes are pre-drilled into the bearing housing itself so that the compressor housing can be positioned independently.
Included Features:
- Dual ceramic ball-bearing CHRA
- Billet forged aluminum alloy compressor wheel
- 4-Port water-cooled bearing housing
- Speed sensor and compressor bypass integrated into compressor housing
- Precision-machined anti-surge compressor inlet
- V-band clamped compressor housing for 360 degree outlet positioning
- Ultra-low inertia Titanium-Aluminide turbine wheel
- Lightweight investment-cast Stainless Steel turbine housing
- V-Band turbine housing discharge outlet
Price - $1,632.00 (Supercore), $2,119.00 (T3/V-Band IWG) .83 A/R, $2,297.00 (T4/V-Band IWG) .92 A/R,
$2,081.00 (T4/V-Band) 1.05 A/R
- SX-E Style compressor housing - $196.00
- Aluminum bearing HSG - $49.00
The 7064 EFR offers astounding boost response and a heady 560 HP airflow capability in a compact mid-frame package. Borg Warner combines the lightweight Gamma-Ti turbine wheel with a highly efficient forged billet compressor wheel which is supported by a tough dual ball-bearing cartridge. This turbocharger is small enough to fit in tight spaces as well.
The Borg Warner 7163 EFR is a new addition to the EFR turbocharger line. It offers the same specifications as the IRL race turbocharger available to all the teams in the 2014 - 2015 season for the performance aftermarket. The 7163 EFR is literally a full race-spec turbocharger made available for use on a road car. It features a dual ceramic ball-bearing CHRA, billet forged aluminum compressor wheel, and a lightweight Gamma-Ti turbine wheel. For a lightweight 600 HP turbocharger solution, the 7163 EFR simply cant't be beat. It responds with lightning-quick immediacy, and has all of the features a competitor can desire, all in a compact and durable package that delivers power at World-Class levels.
The Borg Warner 6258 EFR has the smallest compressor wheel and turbine wheel combination of the EFR line but offers up the airflow to support more than 440 HP with responsiveness that is simply incredible. It offers a full complement of advanced machining, premier materials, and performance oriented components all included for a turbocharger package that delivers high airflow rates and impressive response that can't be matched. This is fast becoming the top choice for smaller engines that are needing a turbocharger that makes lots of power and includes the control devices to make the turbocharger installation very simple. The 450 HP 6258 EFR is a small wonder.
The compact 6758 EFR turbocharger delivers 530 HP with incredible boost response. Borg Warner has combined a lightweight 54 mm (inlet diameter) billet aluminum compressor wheel with a 58 mm Titanium-Aluminide turbine wheel that is half the weight of an Inconel wheel for a rotor-group that needs very little exhaust gas volume to spin up to speed. The inclusion of a speed sensor port, compressor bypass valve, boost control solenoid, dual ball-bearing CHRA, an available internal wastegate turbine housing, and a water-cooled bearing housing give all the features you could want in a small turbo package.
Borg Warner 9174 EFR Turbocharger
This is the BRAND NEW EFR 9174 turbocharger that Borg Warner developed to combine the 68mm billet compressor wheel with a smaller 74mm turbine wheel.
The Borg Warner 8374 EFR delivers 800 HP flow potential with excellent response.
Borg Warner 8374 EFR Turbocharger
By combining the largest compressor wheel with a slightly smaller turbine wheel Borg Warner has optimized the 9180 combination for even better responsiveness. The resulting combination is the 1000 HP capable 9174 EFR. This turbocharger offers the best transient response with the 68mm billet compressor wheel because of the lower inertia of the 74mm Gamma-Ti turbine wheel it has. Another new option for this largest frame EFR turbocharger is an aluminum bearing housing to further reduce weight of the turbocharger assembly. These features combined with the other impressive technical advances built into the EFR turbos gives the 9174 EFR a lighter overall weight, impressive power delivery and response that must be experienced to be believed.
At the heart of the 9174 EFR is its 74mm Gamma-Ti turbine wheel. This special alloy, which is also called Titanium-Aluminide, is essentially 1/2 the weight of an Inconel alloy turbine wheel. How special is this turbine wheel material? It is usually found inside the turbofan engines of commercial jetliners such as the new Boeing 787 and the 747-8. Truly an aerospace material. This alone is a spectacular technical achievement for an aftermarket performance turbocharger. Even though these wheels are pretty thick and very strong, they weigh almost nothing at all and any small exhaust gas volume will get them spinning quickly. Perfect for turbocharger response. On the other end of the shaft is the 7+7-blade 91mm (outer diameter) billet compressor wheel. This CNC-machined masterpiece of aerodynamic efficiency can move 95 pounds per minute of air through its blades. It has an 'Extended-Tip' blade form that offers lower outer diameter inertia while offering improved boost response and airflow capacity. Even with a mere 68mm inlet diameter this compressor wheel gets the job done to support up to 1000 HP.
The ceramic ball-bearing cartridge used in these turbos is just plain massive. Borg Warner specified some large bearings to give a very high load capacity and keep the ceramic bearing stress extremely low. These larger bearings are fitted with steel cages as well for the balls to be secured in, instead of a flimsy plastic cage which is the case with most lower-quality ball bearings on the market. Very low shaft friction and high thrust load capacity are byproducts of this upgraded ball-bearing cartridge on the EFR turbochargers. This bearing cartridge is precisely positioned into the bearing casting. which on all of the EFR turbochargers is a solid casting integrated with the compressor backplate as well. Oil leakage potential is reduced and critical rotor-group positioning is more accurate with this integrated bearing and backplate assembly. As if the CHRA wasn't advanced enough, Borg warner also makes a lightweight bearing housing out of aluminum that can be specified as an option. Each of these housings has 4 coolant ports machined into the sides of the casting for a couple of fitment options for the water pipe connections that keep the bearing housing temperatures regulated. These housings have an o-ring for the compressor housing to seal against to keep the boost pressure from escaping, and even have multiple positions tapped for the wastegate bracket to be bolted onto. This was engineered by Borg warner for allowing flexible actuator positioning independent of the compressor housing orientation.
As a fitting complement to the billet compressor wheel and the trick bearing housing, the compressor housing has a some advanced technical aspects which make it crucial to making the 9174 EFR such a great package. The inlet has a large 4" opening for air to be ingested into and features a fully machined anti-surge ported cavity surrounding the compressor wheel. The inner area of this inlet is actually radiused for smoothly directing airflow efficiently towards their compressor blades. The discharge of the housing has a large 2.5" outlet for maximum airflow capacity to be delivered to the charge piping. Borg Warner uses a Stainless Steel V-band clamp to secure the compressor housing onto the CHRA of the 9174 which allows a 360 degree orientation positioning of the compressor outlet connection. Three additional features are integrated onto the exterior of the compressor housing as well. There is a boost control solenoid bolted onto the casting, making wastegate actuation control convenient and readily available. A speed sensor port is provided for the option of accurate compressor wheel speed data-logging if you desire it. Finally, the most noteworthy addition to the compressor housing exterior is a bypass valve and a recirculation channel which is cast-into the compressor inlet itself. This allows for the boost pressure to loop back through the compressor wheel and not out to the atmosphere like a typical BOV would, thereby improving boost response in between closed throttle and open throttle positions. It also makes for more accurate airflow metering of the engine management computer because of the closed loop operation of the airflow through the turbocharger compressor wheel instead of being vented into the atmosphere as with a typical BOV. Essentially every important element of the function of the compressor housing is well executed with this 9174 EFR turbocharger.
Exhaust housing options for the 9174 EFR are all designed to take the 74mm Gamma-Ti turbine wheel to the limit as far as turning exhaust gas thermodynamic energy into rotational acceleration and torque for moving the 91mm compressor wheel on the other end of the shaft. Each of these Stainless Steel housings is investment-cast with thinner walls for lower weight, in addition to engineered scroll inlet and turbine outlet shaping that favors gas-flow efficiency over packaging and a standardized layout. Essentially, these housings are all about maximum exhaust flow through the turbine wheel over every other attribute. The housing scroll A/R of each of the housings has been engineered to offer the very finest gas-flow characteristics with the 71mm Gamma-Ti turbine wheel. Borg Warner analyzes each scroll volume and the effects on turbine wheel acceleration with the EFR turbochargers allowing for larger housings (which support the exhaust flow better at high engine output levels) that work best to match the turbine wheel's outstanding gas-flow capacity. Outlets on all of the EFR housings are cast with a high-flowing V-band configuration and the internal wastegate flapper valve also cast with large surrounding areas for the gasses to exit easily into, fitting a high-horsepower engine application. These housings allow for fast response and high power through well-engineered castings.
The internally wastegated housings come in both a T3 inlet flange and a T4 flange configuration. The T3 housing has a large wastegate valve and a .83 A/R. The T4 flanged option combines a twin-scroll inlet and internal wastegate regulation with a slightly larger .92 A/R. Both of these housings are perfect for getting the 9174 EFR to respond brutally fast and offer a compact package for boost regulation that is a perfect match for the turbine wheel gas flow characteristics. These housings allow a simple and tidy package from a single (high-output 600 HP - 900+ HP) turbocharger that can be fitted to a simple manifold without a need for either an external wastegate and its piping, or a BOV being welded in taking up more space in the engine bay.
For the engine builds that are all about supporting 1000 HP with little concern for wastegate space requirements there are a pair of twin-scroll housings for the 9174 EFR. External wastage fitments are custom-configurable with these housings being offered in a 1.05 A/R and a larger 1.45 A/R., both with a T4 inlet flange. Smaller engines are best served with the 1.05 A/R housing fitted to the 71mm turbine wheel, while the larger displacements wil be a perfect match for the 1.45 A/R housing configuration.
Since the 9174 EFR will respond well regardless of which engine it is matched to, there are numerous housing fitments that can be ideal in either a single turbo or twin turbocharger configuration. A 2000 HP twin-turbo V8 with displacement in the 5 liters to 6.0 liters range, will be best-matched with the T4 .92 A/R housed 9174 EFR turbos or the 1.05 A/R housings and the wastegates to match. Many options and different fitment scenarios with these high-output 9174 EFR turbochargers.
Included Features:
- Dual ceramic large-diameter ball-bearing CHRA
- Stainless Steel bearing cages
- 4-Port water-cooled bearing housing
- Aluminum bearing housing option for lower turbocharger overall weight
- Billet forged aluminum 91mm diameter compressor wheel
- CNC-machined extended-tip compressor wheel (68mm inlet)
- Speed-sensor port pre-drilled into compressor housing
- Anti-surge compressor inlet
- Compressor-recirculation valve & boost control solenoid included
- V-Band compressor housing clamping to bearing housing/CHRA
- Gamma-Ti 71mm turbine wheel
- Investment-Cast Stainless-Steel turbine housings
- V-Band turbine housing outlets
- Turbine housings: (T3/IWG) .83 A/R, (T4/IWG) .92 A/R, (T4/Twin-Scroll) 1.05 A/R, (T4/Twin-Scroll) 1.45 A/R
Your Prices - $1,539.88 (Supercore Only), $2,104.88 (T3/IWG .83 A/R),
$2,304.88 (T4/IWG .92 A/R), $2,060.88 (T4 1.05 A/R),
$2,320.88 (T4 1.45 A/R),
+$92.40 (Aluminum Bearing Housing Option)
Borg Warner 7670 EFR Turbocharger
The 7670 EFR has excellent responsiveness and can support 400 HP - 650 HP.
The 6258 EFR offers up large amounts of airflow with response like no other turbocharger because of its extremely lightweight and low-inertia rotor group. This EFR turbocharger is a favorite with smaller engine tuners because of its compact frame and included features making it a simple solution for turbocharging powerplants that left the factory naturally aspirated. With a tiny 62 mm diameter billet compressor wheel, the 6258 EFR is so light on its feet that it is the top choice for twin turbo setups on smaller displacement 6-cylinder engines and V-8s. It offers versatiliy for fitment options with a compact compressor housing and accompanied turbine housing.
At the heart of this 6258 EFR is a dual ceramic ball-bearing core CHRA. Borg Warner uses oversized bearings for increased load capacity and durability for support of the EFR turbine shafts. This CHRA is equipped with ports on both sides of the casting which make running coolant through the bearing housing a cinch. The 62 mm compressor wheel has a 49.6 mm inducer diameter and is CNC-machined from a solid forged billet of aluminum alloy material. The 7+7 blade billet wheel is both light in weight and strong, with quite a broad efficiency range that has a 76% peak. At the business end of the CHRA is a 58 mm 10-blade Gamma-Ti (Titanium-Aluminide) turbine wheel. Offering up half of the weight of a comparable Inconel turbine wheel, incredible turbocharger responsiveness is the outcome with such a lightweight turbine wheel design. Borg Warner spared no expense with the EFR turbine wheel designs culminating in highly efficient blade profiles which are very low in inertia for quick turbo response, and durable at elevated temperatures as well. This 6258 EFR having the smallest turbine wheel dimensions, offers the fastest possible responsiveness.
The 6258 EFR compressor housing has a long list of top-notch features giving tuners a host of capabilitits as far as accurate boost control, compressor wheel surge protection, and wheel speed monitoring. The housing has mounting pads for the included boost control solenoid and a speed sensor port. The boost control solenoid alleviates the purchase of a separate boost control device as it can be directly triggered and modulated by the ECU. Speed of the billet compressor wheel can be precisely monitored and data-logged as well as an available option. Borg Warner cast in a full compressor bypass valve port into the compressor housing itself allowing instant recirculating of boost airflow back into the compressor wheel inlet once the throttle is closed. This feature protects the billet compressor wheel from potential surge damage as the airflow tries to move backwards through the compressor wheel blades. This also improves throttle response because the boost pressure is not bled off as with a BOV, and is immediately available once the throttle is opened up again.
The 6258 EFR has five different turbine housing options from which to choose to get just the right boost response curve and manifold attachment configuration you prefer. There are 2 T25 flanged turbine housings with either a .64 A/R which delivers he fastest turbocharger response possible with the 6258 EFR or a larger .85 A/R which offers the full top-end airflow capability possible. These internal wastegate (IWG) housings are the most compact of the EFR turbocharger lineup because of the T25 inlet flange. An additional pair of IWG turbine housing choices with a V-Band inlet and a T4 flange inlet have a .85 A/R and .80 A/R respectively. The last turbine housing available for the 6258 EFR is a V-Band flanged inlet .85 A/R turbine housing. For high-powered external wastegate configurations. All of these turbine housings are investment-cast from a high-Nickel content Stainless Steel alloy, which are delivered in a thin-wall, lower-weight form with large outlet dimensions for excellent gas flow dynamics and ultra-low turbulence. Even the internally wastegated housings are cast by Borg Warner to offer superior flow around the wastegate valve as it opens by having a large area cast-in for gas flow at its exit. These housings are all specifically designed to offer the very highest gas-flow volume with minimal turbulence being introduced by the wastegate valve opening, or from a restrictive outlet configuration.
The incredible response offered by the 6258 EFR makes it a top choice for both smaller engine displacement applications and twin-turbo installations alike. Because of the availability of all of the control devices included right on the 6258 EFR, it can be the basis of a very compact turbocharger system. Smaller engine bays can have this turbocharger mounted in place of a tubular header with only a small inlet and outlet pipe attached at the compressor housing end to connect to an air filter and the intercooler or throttle body inlet. This is a highly-efficient turbocharger which doesn't add as much heat to the pressurized airflow as lesser turbochargers would making lower-boost non-intercooler setups a viable option. It delivers a stout 400+ HP worth of airflow immediately, and can support 880 HP in twin turbo applications which is equally impressive. The best feature of the 6258 EFR is the immediacy of response you get with the throttle, very much like a larger naturally-aspirated engine. The Gamma-Ti turbine wheel and billet compressor wheel union are the key to such responsive airflow delivery and the 6258 EFR has the lightest combination of those components available in the Borg warner EFR turbocharger line.
Included Features:
- Dual ceramic ball-bearing CHRA
- 4-Port water-cooled bearing housing
- Compressor bypass & speed sensor port built into compressor housing
- Boost control solenoid mounted on compressor housing
- CNC-machined billet forged compressor wheel
- V-band compressor housing allowing independent wastegate actuator placement & 360 degree compressor outlet orientation
- Gamma-Ti (Titanium-Aluminide) turbine wheel (1/2 the mass of Inconel)
- T25, V-band (T3 sized), T4 flanged turbine housing inlet options
- V-Band turbine housing outlet
Price - $1,255.00 (Supercore), $1,749.00 (T25/V-Band IWG .64 A/R),
$2,038.00 (T25/V-Band IWG .85 A/R), $2,038.00 (V-Band inlet/outlet IWG .85 A/R),
$2,078.00 (T4/V-Band IWG .80 A/R), $1,651.00 (V-Band inlet/outlet .85 A/R)
Aluminum lightweight bearing housing - $106.00
Anti-surge SX-E style compressor housing - 178.00
The 6758 EFR turbocharger is the larger of the 2 6000-series EFR turbochargers offered by Borg Warner and delivers the most airflow potential. Supporting over 500 HP is serious airflow and the inclusion of the best features make this turbocharger a complete package with responsiveness like no other turbocharger can quite measure up to. The compact dimensions of the compressor housing avails the option of fitment into some pretty small engine bay areas, which makes the 6758 EFR a top choice for high-powered twin-turbo setups on V-6, and V-8 engines alike.
The foundation of the 6758 EFR is a dual ball-bearing cartridge which supports its Gamma-Ti/ billet compressor wheel combination. This bearing cartridge is much larger than it needs to be for a substantial increase in load capacity and durability. The ceramic ball-bearings keep the turbine shaft true within the bearing housing, and also keep both the compressor wheel and turbine wheels centered within their respective housings as well. This is crucial for peak earodynamic performance and efficiency. Borg Warner set about to engineer this turbocharger series for the highest levels of durability and this heavy-duty ball-bearing cartridge is at the center of that effort. A bearing housing with 4-ports for coolant line connections allows for a variety of configurations of coolant flow through the housing cavities. The compressor backplate is an integral part of the bearing housing castingas well for a more rigid assembly and reduced possibility of leakage or mis-alignment of the compressor housing and bearing housing assemblies.
The compressor housing of the 6758 EFR has a host of included features which gives the turbo a distinct advantage to tuners looking for a all-in-one solution for Boost control, turbocharger (speed) monitoring, and compressor surge protection. The housing itself has been cast with a bypass valve port cast into both the compressor inlet and discharge scroll passage. With the connection of a vacuum/boost reference line to the valve this bypass valve opens up immediately with the closing of the engine throttle so that boost pressure loops back through the bypass port into the compressor wheel inlet. This keeps boost pressure airflow from flowing backwards through the compressor wheel blades and causing a damaging condition of 'surge'. Borg Warner engineers cast a pad for a speed sensor into the compressor housing as well for monitoring the compressor wheel speed if you choose to take advantage of this option. This allows a data-log of the turbocharger during a run and later analysis of the speed and compressor map efficiency with your setup, excellent for fine-tuning the 6758 EFR and keeping track of potentially damaging overspeeding conditions. The inclusion of a high-quality boost control solenoid mounted to the compressor housing gives convenient regulation of the wastegate valve in the turbine housing or even an external wastegate if the external wastegate turbine housings are used. This solenoid can be controlled directly by the ECU without the need for a separate boost controller device, which saves on costs and makes setup much simpler. The compressor housing itself is secured onto the 6758 CHRA with a V-band clamp which allows a 360 degree range of orientation options for the placing the discharge outlet. The Borg Warner EFR turbochargers have the wastegate clamp mounting holes drilled into several positions on the bearing housing which allows independent positioning of they wastegate actuator in relation to the compressor housing. This feature alone gives the turbocharger a great advantage over traditional compressor housing clamping configurations which are typically limited in regards to housing position and wastegate actuator placement.
The turbine housing options for the 6758 EFR turbocharger allow many configurations for mounting the turbo onto the exhaust manifold and for wastegate configuration. There are 3 distinct internal wastegate configurations, there are (2) T-25 flanged inlet options, a V-band flanged inlet (which is close to T-3 size opening dimensions), and a T-4 flanged inlet. Each of the 4 housings available with an internal wastegate valve have been investment cast from a high Nickel-content Stainless Steel alloy for superior heat durability, strength, and lower overall housing weight. Each housing configuration is specifically cast to offer the best flow possible, the wastegate valves (on the IWG turbine housings) are sized for higher gas-flow and the area surrounding the valve exit has ample clearance for gasses to flow out of the open valve without restriction.
The increased compressor wheel size of the 6758 EFR turbocharger gives a huge boost in airflow capacity. Having the ability to support more than 500 HP with the fastest boost response of any turbocharger available makes this an excellent choice for smaller displacement engines that require a lot of airflow to make power. In single turbo systems the 6758 EFR turbocharger can support up to 530 HP and in twin turbo applications an impressive 1060 HP can be had, all with response that simply can't be matched. Do you have a small 1.5 liter 4-cylinder engine that you want 500+ HP from, or a 3.0 Liter 6-Cylinder that you just have to have 1000+ HP from? The 6758 EFR is the right turbocharger to use in both cases. Borg Warner has really put in the R&D on this turbocharger. The Gamma-Ti turbine wheel and billet compressor wheel combination supported by dual ceramic ball-bearings make this possible and reliable. This EFR turbocharger has the same compact exterior dimensions of the 6258 EFR which makes it just as easy to fit into very small engine bays, especially tight against the engine block in twin-turbo fitments. The 6758 EFR is a game-changer for high-output builds on such engines, and only requires an engine just over 1.0 Liters of displacement to have excellent responsiveness. The 6758 EFR is THAT good.
Included Features:
- Dual ceramic ball-bearing CHRA
- 4-Port water-cooled bearing housing
- Forged billet 6+6-blade lightweight compressor wheel
- Integrated speed sensor port, boost control solenoid & compressor bypass into compressor housing
- V-band compressor housing allowing 360 degree outlet orientation & independent wastegate actuator placement
- High-flow internal wastegate valve available
- Low-inertia 58 mm Gamma-Ti turbine wheel
- Available full V-band turbine housing options
Price - $1255.00 (Supercore), $1651.00 (.85 A/R V-Band), $1749.00 (IWG .64 A/R T-25/V-Band),
$2038.00 (IWG .85 A/R T-25/V-Band), $2085.00 (.80 A/R T-4/V-Band)
- Aluminum lightweight bearing housing - $106.00
- Anti-Surge SX-E style compressor housing - $178.00
Borg Warner 6758 EFR Turbocharger
Borg Warner makes an IRL spec turbocharger available to the masses with the 600 HP capable 7163 EFR. This competition turbocharger features a lightweight bearing housing, a Gamma-Ti turbine wheel supported by dual ball-bearings, investment-cast turbine housings, and a low-inertia billet forged 57mm compressor wheel. This turbocharger has all of the best features packed into a compact frame with the best quality components that Borg Warner can make available to the competitive Motorsports and performance aftermarket community.
The 7163 EFR has an aluminum bearing housing as standard, which is equipped with a dual ceramic ball-bearing cartridge and 4-port water cooling as well. The 7163 EFR stands apart among the EFR with ceramic ball-bearings which are military-grade, with a silver-plated Stainless Steel cage. This low-mass bearing housing accounts for a significant reduction in turbocharger weight, and because it has the compressor wheel backplate integrated into its casting, it is more rigid and less likely to have any leakage or misalignment of the critical rotor group components and the housings. Saving close to 2 pounds from the turbocharger weight makes this housing a must-have for any serious competitor, making this a key standard feature of the 7163 EFR. The oversized ball-bearings offer durability and high-boost thrust load capacity in a low-friction package. The Gamma-Ti (Titanium Aluminide) turbine wheel that these bearings support is essentially half the weight of a comparable Inconel alloy turbine wheel, guaranteeing the best turbocharger response possible, which is critically important with a full competition turbocharger such as this. The 7163 EFR has a specially developed 63mm turbine wheel with a MFT (mixed-flow-turbine) design which delivers incredible spool response and a large powerband. This turbine wheel design sets the 7163 EFR apart from the standard EFR turbochargers offering even lower inertia and further aerodynamic capability for the same amount of gas flow being available. Exhaust gasses enter the blades at an angle closer to the direction of gas flow out of the blade exit areas as opposed to 90 degrees to the blade exits for better thermodynamic efficiency. Attached to the other end of the shaft is a very low-inertia CNC-machined compressor wheel. The forged aluminum billet compressor wheel is a unique specification that takes the 57mm inducer and 71mm outer diameter dimensions to the very limit of aerodynamic efficiency for its size. It can deliver a peak airflow of 60 pounds per minute, enough to support up to 600 HP at the wheels.
The compressor housing attached to the 7163 EFR bearing housing has all of the spectacular features that have set the EFR series of turbochargers apart from the other choices available. The inlet for the compressor wheel is fully machined with a port for the integrated compressor bypass valve cast in. This makes for a simpler system which doesn't require an external BOV to be welded into the charge piping. Additionally, because the bypass valve vents back into the compressor wheel inlet throttle response is improved because boost airflow is constantly circulating within the housing in the direction of flow and not bled off to the atmosphere. A speed sensor port is situated near the base of the compressor wheel outer diameter so if you choose to an optional sensor can be wired up to feed compressor speed information directly to the ECU for diagnosis of the compressor efficiency, response graphing, and RPM of the turbocharger at various load points. For boost control Borg Warner has also included a high-quality wastegate solenoid mounted directly on the compressor housing exterior and connected to the included boost reference port. This solenoid can be triggered directly by the ECU for accurate boost regulation without the need for purchasing a separate control module. The compressor housing itself is attached to the bearing housing with an o-ring seal and V-band clamp for leak-proof boost retention and a 360 degree mounting orientation of the compressor discharge outlet. Since the wastegate mounting bracket is attached to the bearing housing compressor housing orientation has unlimited flexibility for positioning. Finally, there is a large 2.5" compressor discharge for high airflow efficiency. The entire compressor housing casting is quite smooth in texture which also aids airflow efficiency by reducing air turbulence as it moves through the housing. No aspect of this housing has been overlooked to make it a compact, and efficient match for the billet compressor wheel it surrounds.
The turbine housing choices for the 7163 EFR reflect the same level of meticulous attention to the engineering details as the rest of the turbocharger. These investment-cast housings are form from a high-nickel content Stainless Steel alloy which has superior high-temperature stability and strength. These thin-walled castings allow for a lower weight and high exhaust gas flow capability specifically shaped for the best flow characteristics with the 63mm Gamma-Ti turbine wheel. All of the turbine housings share very similar A/R ratios (.80 or .85) so that the turbine acceleration is at the optimum level for the 63mm Gamma-Ti wheel. Whether the T25-flanged housing, the T4-flanged housing, or one of the pair of full V-band housings is selected for your application, the 7163 EFR will deliver the same record setting pace for boost response and airflow delivery, just like the IRL race engines demanded of it.
Stepping up to a 7163 EFR turbocharger assures you of a proven and responsive 600 HP turbocharger package. This race specification turbocharger offers dynamic performance that is very much 'World-Class'. The 7163 EFR was designed to work very well in twin-turbo applications in the IRL and will absolutely deliver impressive boost response and airflow on your engine. Even a single 7163 EFR will offer impressively as it has been designed by Borg Warner to offer the best possible response to throttle inputs as required on a top-tier competition engine. Whether your specification calls for 600 HP or 1200 HP, you have a true race specification option available to you with this turbocharger.
Included Features:
- Full IRL specification compressor wheel & turbine wheel combination
- Dual heavy-duty ceramic ball-bearing CHRA
- Lightweight aluminum bearing housing
- 4-Port water connections for bearing housing cooling
- Forged billet aluminum CNC-machined 57mm compressor wheel
- Titanium-Aluminium 63mm 'mixed flow' turbine wheel
- Integral bypass valve and speed sensor port on compressor housing
- Boost control solenoid included for accurate wastegate actuation
- Investment-cast turbine housings offering low weight, improved flow, and superior high-temp durability
- Precision-machined V-band turbine discharge outlet configuration
Price - $1440.00 (Supercore), $2,121.00 (T25/V-Band IWG .85 A/R),
$2,197.00 (V-Band IWG .85 A/R), $2,184.00 (T4/V-Band Twin-Scroll IWG .80 A/R),
$1,875.00 (Full V-Band .85 A/R)
- Anti-Surge SX-E style compressor housing - $178.00
- 90 Degree compressor housing discharge - $269.00
Borg warner 7064 EFR Turbocharger
Borg Warner 7163 EFR Turbocharger
The 8374 EFR turbocharger is a fast responding ball-bearing unit that combines a low-inertia 74 mm Gamma-Ti turbine wheel with a 63 mm billet compressor wheel for an immense 800 HP airflow potential. Everything about the 8374 EFR is designed for performance at the highest levels. The billet compressor wheel is the latest generation design from Borg Warner offering lightweight, high-airflow capacity, and incredible strength. The compressor housing also has a host of features making it simple to have efficient performance from day-1 with accurate monitoring and control of the turbocharger with a stand-alone ECU. Turbine housing options deliver the highest gas-flow rates possible in a variety of inlet flange configurations. This is a 800 HP turbocharger with no equal as far as features, performance, and responsiveness.
The CHRA of the 8374 EFR is based on a heavy-duty dual ceramic ball-bearing cartridge that has oversized bearings for superior durability and thrust load capacity. The bearing cage itself is a Stainless Steel unit to keep the bearing balls precisely located within the bearing races. Borg Warner cast the backplate for the compressor wheel and the bearing housing together with the EFR turbochargers to offer the best CHRA rigidity, sealing, and rotor group component position precision possible. Even an optional aluminum bearing housing can be selected to shed even more turbocharger weight from your vehicle. A pair of piston ring seals, on both the turbine wheel and compressor wheel ends of the turbine shaft, keep oil contained within the cartridge at all times. Borg Warner developed an extremely lightweight 74mm Gamma-Ti (Tiutanium-Aluminide) turbine wheel alloy for the 8374 EFR that is essentially 1/2 the weight of an Inconel turbine wheel. This alone affords incredible responsiveness simply unmatched by a heavier turbine wheel. The advanced wheel profile also allows high gas-flow rates through the blades to support the 800 HP levels of airflow the compressor wheel can ingest. The compressor wheel itself has been designed with a profile that has low-mass, high airflow capacity and efficiency, with high-strength. The CNC-machined forged aluminum allloy will deliver impressive amounts of airflow day-in and day-out, with clockwork reliability and precision. This compressor wheel has a compact 62.6mm inducer matched to its 83mm outer diameter, precision-machined from aerospace-grade 6061-T6 aluminum alloy to be low in inertia and high in tensile strength.
Borg Warner has outfitted the 8374 EFR turbocharger with full-featured compressor housing that keeps costs lower than turbochargers which need external control devices. The inclusion of a speed sensor port, compressor bypass valve, and boost control solenoid make this a very well appointed turbocharger package. The bypass valve has a port channeled back into the compressor housing inlet so that once the throttle is closed, boost will loop back through the compressor wheel in a direction which does not go against the rotational mation of the shaft. This alone accounts for excellent boost response once the throttle is opened up again, and keeps compressor wheel damaging surge under control. The inlet itself is machined with an anti-surge cavity and radiused for efficient airflow I top the compresor wheel blades. With the optional speed sensor being used to monitor compressor wheel speed turbocharger function can be data-logged and compressor efficiency tracked with precision. The high-quality boost solenoid allows direct actuation and control of boost with a stand-alone ECU, saving the added expense of purchasing a separate boost controller.
Turbine housings are just as advanced as the CHRA and compressor housing on on the 8374 EFR turbocharger. All of the housings are investment cast from a thin-wall Stainless Steel alloy that has a high Nickel content for superior durability at elevated temperatures. These housings are low mass castings as well offering a savings of weight that is welcome in Motorsports applications. The internally wastegated housings feature a large wastegate valve and generous cavity dimensions on the outlet side to allow for very high exhaust flow capacities. Each housing has a V-band outlet configuration as well for low-turbulence and high-flow characteristics. There is a single scroll T3-flanged housing and 3 T4-flanged twin scroll housing options. With choices from .83 A/R to 1.45 A/R, many response curves can be tuned in with the available turbine housings for the 8374 EFR turbocharger.
This is an excellent Time-Attack turbocharger offering an incredibly quick response time and high airflow levels alike. This turbo can easily support up to 800 HP as a single turbocharger or beyond 1500 HP when used in a twin turbo system. The 77% peak efficiency capability of the billet compressor wheel gives a very broad airflow range in between 450 HP and 800 HP. With the optional aluminum bearing housing and an internally wastegated turbine housing, this is a very potent, compact and lightweight mid-frame turbocharger that responds like a much smaller turbocharger normally would. It responds like a 50mm turbocharger but delivers the airflow of a 70mm turbocharger. That is what the Borg warner 8374 EFR turbocharger can do in simple terms. The 8374 EFR turbocharger is a an impressively capable midframe turbocharger with cutting-edge performance and features .
Included Features:

- Dual ceramic ball-bearing CHRA
- Billet forged aluminum compressor wheel
- 4-Port water-cooled bearing housing
- Integrated backplate and bearing housing
- optional lightweight aluminum bearing housing
- Speed sensor port & compressor bypass valve integral in compressor housing
- V-Band attachment of compressor housing allowing 360 degree compressor outlet orientation
- Anti-surge compressor machined inlet
- Gamma-Ti (Titanium-Aluminide) turbine wheel 1/2 mass of Inconel
- High-flow turbine housings w/ V-Band outlets
- Investment-cast Stainless-Steel turbine housings
Price - $1,876.00 (Supercore), $2,441.00 (T3/V-Band .83 A/R IWG), $2,641.00 (T4/V-Band .92 A/R IWG),
$2,397.00 (T4/V-Band 1.05 A/R), $2,657.00 (T4/V-Band 1.45 A/R)
- Aluminum Bearing HSG - $56.00
- SX-E Style Compressor Housing - $196.00
Borg Warner 6258 EFR Turbocharger
This is paragraph text. Double click here to edit and add your own text.
Borg Warner EFR Series Turbochargers
Borg Warner 9180 EFR Turbocharger
When Borg Warner decided as a company to design a performance line of premium turbochargers the EFR series of turbochargers are the result. These turbochargers are the very best aftermarket performance turbochargers offered to the public and the proof is their being exclusively supplied as the official turbochargers of the Verizon IndyCar Racing Series. It is pretty cool that you can buy the latest racing technology for a street car right off the shelf.
These are ball-bearing supported turbochargers with a specially-developed low-inertia alloy turbine wheel material called Gamma-Ti. The turbine housings are investment-cast Stainless Steel and feature integrated high-flow wastegate porting and turbine discharges. The compressor housings incorporate an anti-surge inlet, a speed sensor port and compressor bypass into the casting. The bearing housings are water cooled and can even be ordered in a lighter-weight aluminum version. Apparently, there are no features left to be added to these turbochargers as Borg Warner has included them all right from the beginning. They really are 'Engineered For Racing'. All you really need to do is select a turbine housing flange configuration and A/R then install the turbocharger itself and go take it out on the open road or racetrack. Sweet. The EFR turbochargers offer the best aerodynamics Borg Warner can deliver, the most features integrated into the turbocharger itself, and the most responsive rotor-group assembly available for a performance turbocharger you can buy.
This is the 9180 EFR turbocharger from Borg Warner. It supports 580 HP - 1000 HP with its combination of a 68mm billet compressor wheel and a 80mm Gamma-Ti aerospace-alloy turbine wheel. This ball-bearing turbocharger offers a host of useful included performance features, specially-selected materials, top-quality machining and engineering to be the most responsive and capable 1000 HP available for Motorsports use today.
The 9180 is the largest EFR turbocharger you can have from the Borg warner EFR line. It offers 1000 HP capability from a 68mm compressor wheel and 80mm (outer diameter) turbine wheel combination. This turbocharger has a long list of included features and technologically advanced components that are all apart of the 9180 EFR package.
Center stage is the ceramic ball-bearing cartridge contained within the bearing housing which supports the Gamma-Ti alloy turbine wheel. This specially-developed material is about half the weight of a comparable Inconel turbine wheel which is absolutely incredible. That fact alone gives the 9180 EFR turbocharger unheard-of responsiveness irregardless of the turbine housing (A/R) specifications. Borg Warner specified this alloy as a 'clean-sheet' solution to the design parameter of having the lowest turbine wheel inertia possible. The alloy is a high-temperature material that excels in high-temperature applications where lower mass is paramount. Gamma-Ti is actually a chemically bonded alloy of aluminum and Titanium that resists corrosion and oxidation effects at temperatures above 600 degrees Celsius or 1112 degrees Fahrenheit. This alloy is most-commonly used in aircraft turbofan engines such as in the Boeing 747-8 and 787 models for the turbine components. Aerospace level of components for a retail turbocharger. These turbine wheels are a new design as well, featuring advanced profiles to take full advantage of the Gamma-Ti material and the high-rpm potential of these turbine shaft assemblies. On the 9180 EFR the turbine wheel is 80mm in diameter, the largest in the EFR range. On the opposite end of this shaft is a 68mm compressor wheel that Borg Warner has CNC-machined from a solid forged billet of T6 aluminum alloy. This advanced aerodynamic profile compressor wheel has a peak efficiency of 77% (which is quite high) and allows the 9180 EFR to support 1000 HP.
The bearing housing has a host of features all its own to brag about. It is not only water-cooled but has 2 sets of ports on either side of the housing for fittings to be attached to for multiple coolant line configurations. The casting itself can even be ordered in a lightweight aluminum for the ultimate in weight savings for the turbocharger assembly. Very few turbochargers have featured such an option as an aluminum bearing housing. The compressor backplate is integrated into the casting as well. This assures a perfect alignment of the critical bearing cartridge and oil seals. This is also the most rigid assembly and keeps the alignment of the critical components true even in the harshest vibration environments. Inside of the trick casting which has been precision machined for the wastegate actuator mounting holes too, is a large (oversized for superior shaft load support) ceramic ball-bearing cartridge assembly. Thie bearing cage is a Stainless Steel unit and not a flimsy plastic one either. Tough core for the turbine shaft to be supported by for certain. The bearing housing casting is a clean-sheet design that is not interchangeable with any other series of turbochargers. It is simply designed to be thge most rigid, accurately-machined, offer the maximum flexibility of configuratations, and the most durable possible for this 600 HP - 1000 HP 9180 EFR turbocharger.
The 9180 EFR compressor housing has bragging rights all its own. The inlet for the compressor wheel is fully machined to offer an anti-surge cavity. The compressor housing has a bypass valve port machined into the casting as well. This gives you the function of a BOV but recirculates the air charge back into the compressor wheel inlet which aids spool-up once the throttle is opened back up again. No need to purchase a separate BOV and weld in the flange, weld up some pipes, etc, Borg warner includes this function right on the turbocharger itself. A speed port is provided on the compressor housing as well for fully data-logged turbocharger speed monitoring during a run as an option for tuning. Because the housing itself is attached to the bearing housing/ CHRA with a V-Band clamp, you have a full 360 degree range of housing orientations to choose from to get the compressor discharge positioned exactly as you need it with ease. Amother feature of this housing is the inclusion of a boost control solenoid mounted on a machined pad. This affords you full control of the wastegate actuator to be regulated by the ECU directly built-in to the turbocharger itself. The compressor housing inlet is a large 4" opening and the discharge is 2.5", both sized to be easily configured into the Cold-Air piping and charge piping as well.
Turbine housings for the 9180 EFR are something special too. These are specially cast in a high-Nickel content Stainless Steel alloy for the ultimate in high-heat environment durability. Available in Both a twin-scroll and open volume inlet configuration, these housings are precision-cast to offer the best gas-flow dynamics for the Gamma-Ti turbine wheel at work inside of them. The outlet portion of the housing is shaped specifically for the best flow dynamics. This is accomplished with the wastegate discharge being blended into the larger outlet cavity in such a way as to reduce the effects of turbulence on the turbine gas flow as it exits the turbine wheel itself. Even the wastegate flapper is sized appropriately to fully regulate the gasses through the turbine wheel of this 1000 HP capable turbocharger configuration. A large V-Band outlet is cast into the turbine housing with the clamping and mounting surfaces being precision-machined for a perfect connection to the downpipe. Whether it is an internally wastegated housing or not, each is cast to offer the optimum flow dynamics both through the turbine wheel and at the exit of the blades. There is no generic housing configuration here, each one is designed to offer the best gas flow characteristics possible. The 4 housings available for the 9180 EFR turbocharger are a .83 A/R, .92 A/R, both of which are internally wastegated, and a 1.05 A/R or 1.45 A/R which are twin-scroll housings for external wastegate use.
The 9180 EFR turbocharger is the best of the best. It offers in between 580 HP and 1000 HP worth of airflow capability, insanely quick response, and a host of features other turbos simply can't match. This is the perfect turbocharger for an engine that has to have a high-capacity turbocharger with quick reflexes and limited space for external control devices. High-rpm race-tuned import engines and small displacement V8 engines will thrive with a single 9180 EFR turbocharger. Any engine with about 5.0 liters of displacement will work beautifully with a pair of 9180 EFRs and develop an impressive 2000 HP with excellent response. This turbocharger is as good as it gets as far as fit, function, and features.
Included Features:
- Dual ceramic ball-bearing CHRA w/ large bearings
- Water-cooled (4-port) bearing housing
- Lightweight aluminum bearing housing option available
- CNC-machined forged billet aluminum compressor wheel, compressor housing inlet
- Ported shroud compressor inlet/ anti-surge cavity
- Built-in compressor bypass valve on compressor housing
- Speed sensor port integrated into compressor housing
- Boost control solenoid included on compressor housing
- V-Band compressor housing clamping to bearing housing/CHRA
- Gamma-Ti lightweight 80mm turbine wheel
- Cast Stainless Steel alloy turbine housing
- High-flow wastegate valve built-in to turbine housings (.83 A/R & .92 A/R)
- V-Band turbine housing outlet
Your Prices - $1,890.88 (Supercore), $2,485.88 (T3/IWG .83 A/R), $2,849.88 (T4/IWG) .92 A/R), $2,441.88 (T4/V-Band 1.05 A/R), $2,696.88 (T4/V-Band 1.45 A/R),
+$56.80 (Aluminum Bearing Housing Option)
Borg Warner Airwerks Series Turbochargers