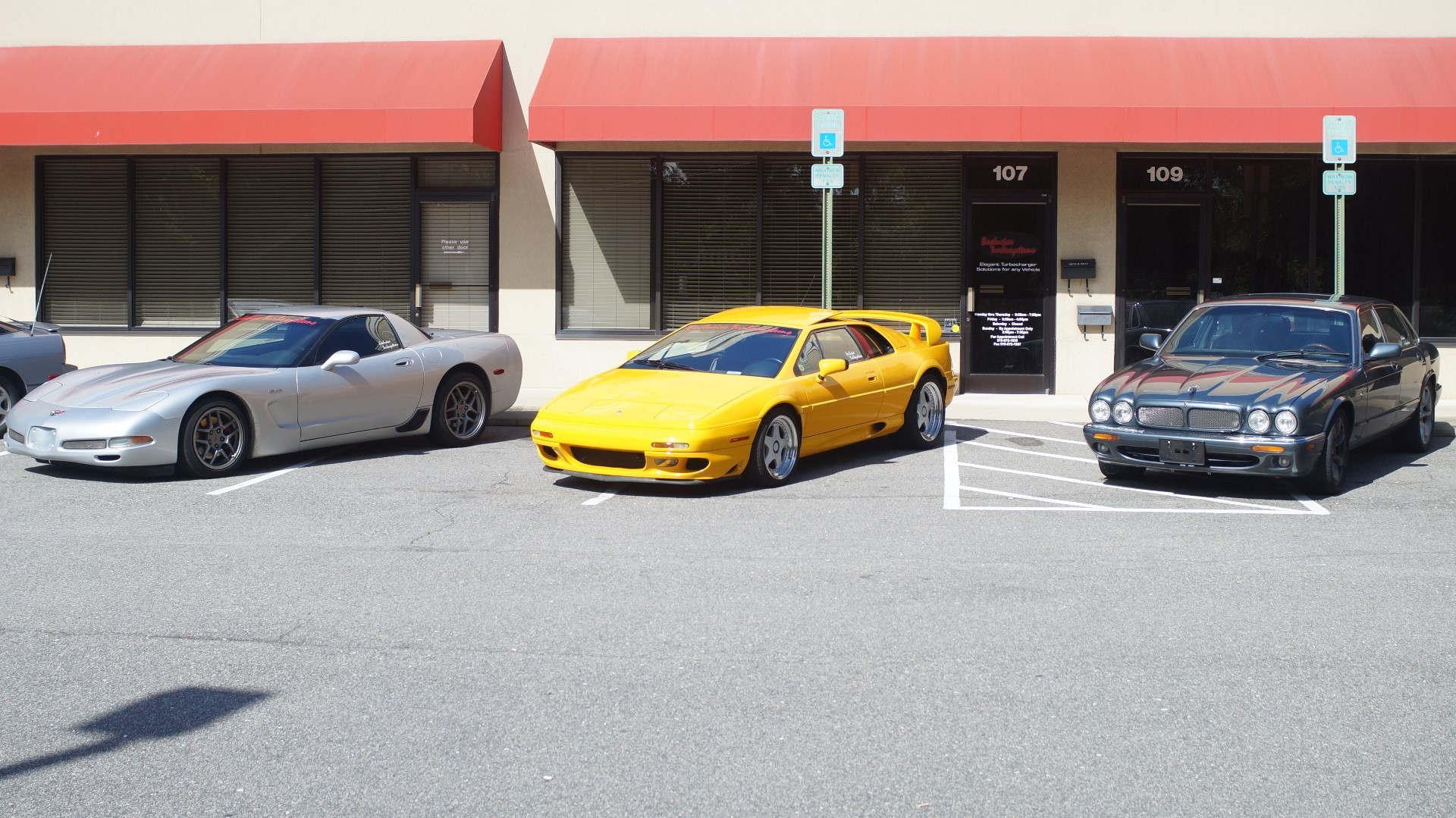 Here we have a Garrett TV-Series turbocharger that has all of the best work put into the CHRA and housings to deliver up to 1000 WHP worth of airflow in between 15 PSI and 45 PSI boost pressure. The ported housings assure you of the very best compressor efficiency and turbine wheel performance for swift boost response and killer response. The CHRA is blueprinted to offer improved durability and lower friction as well.
The core of this turbocharger is a large diameter Garrett turbine shaft that has its bearing journals polished for a harder surface with lower friction. Feedback from our clients tells us that our prep of these surfaces allows nearly ball-bearing levels of rotational friction from our turbos. The bearings themselves are machined with a 360 degree oil channel which allows full lubrication of the shaft journal at all aspects of turbocharger rotor-group rotation. A heavy-duty thrust plate is included with specially polished journal surfaces for an improvement in thrust load and further reduction in friction. The compressor wheel for this turbocharger is a 76 mm cast design that measures 103 mm in outer diameter. It is most efficient in the 20 - 45 PSI range of boost making it perfect for competitive engine builds that run on high-octane race fuels. Even the backplate of this CHRA is polished to eliminate the roughness of the casting process and improve air flow within the compressor section of the turbocharger.
The compressor housing inlet has a 6" opening that been radiused to reduce turbulence of the incoming airflow. The discharge portion of the compressor housing is also ported deep into its passageway to produce a smooth surface for the pressurized air to flow through from the compressor wheel. The .75 A/R of this housing builds boost rather quickly and is ideal for making the 76 mm turbocharger very responsive to throttle inputs. The exterior of this compressor housing has a few hours of sanding and buffing invested in it as well, making it both lighter and better looking given its mirror-finish as you can see in the pictures. This is no rough looking turbocharger. The compressor housing's polished finish gives this Garrett race-prepped TV 76mm turbocharger a classy look indeed.
We have fitted this turbocharger with a 1.05 A/R turbine housing which is by far the most flexible A/R choice for T6 turbine housings fitted to our turbochargers of this size, offering extremely strong lower-RPM and midrange boost response, with excellent top-end airflow and power delivery. This is a twin-scroll turbine housing offering optimal exhaust gas channeling towards the turbine wheel blades to improve turbine wheel acceleration. Both the inlet 'scroll' and the turbine outlet are ported on this housing for the very best gas-flow dynamics possible through the turbine blades. We have taken great steps towards removing the restrictions of the casting passageways of this turbine housing. The integrated 4" V-Band outlet which we TIG-weld onto the housing exit makes the downpipe connection a high-flowing, quick-disconnect affair. The entire exterior surface of the housing has a ceramic-based coating applied to it for thermodynamic efficiency and lower underhood temperatures alike.
This 76 mm turbocharger is ideal for an engine of 3.0 Liters - 8.0 Liters displacement or a 2-rotor or 3-rotor engine. Ideally you will use this turbocharger on a modest displacement V8 engine or even a well-built V6 tuned up to the 1100 HP level of output. It is a tough turbocharger comprised of well-tested components which has been meticulously prepared to further increase its performance and improve its durability. This special combination of Garrett components offers proven performance that reliably delivers boost on demand for highly tuned vehicles.
Included Features:
- Blueprinted CHRA
- Fully polished compressor housing exterior
- Fully ported compressor & turbine housings
- Twin-scroll turbine housing
- 1.05 A/R turbine housing
- 4" V-Band turbine housing outlet
Price - $1158.67 * 1-Year Warranty*
This TO4B turbocharger is a fairly compact 450 HP T4 that has a blueprinted CHRA and ported housings. We have based this combination around a Borg Warner turbine shaft and Garrett compressor section. The turbine wheel is a P-trim fitted within a specially selected .68 A/R turbine housing to assure strong response and excellent midrange airflow delivery, thus making this turbocharger just what the doctor orderd for smooth engine response and power. To make the most of this combination we have ported the housings extensively to make this V-trim turbo perform with peak efficiency.

At the heart of this turbo is a CHRA that Exclusive Turbosystems has blueprinted to a higher standard fitting to a purpose-built performance turbocharger. The turbine shaft has micro-polished journal surfaces for a higher bearing load capacity and reduced friction. Both of the journal bearings have a full-circumference groove for perfect oil delivery to the internal bearing race. We have also modified the oil delivery ports on the thrust plate for improved oil flow to the thrust surfaces. All of the thrust surfaces are polished to match the bearing journals which produces the joint effect of lower internal friction, and increasing thrust-load capacity. All of these internal tweaks have a net effect of reducing spool-up time of the rotor group and improving durability as well. The combination of the Borg Warner turbine shaft and Garrett V-trim compressor wheel is good for an efficiently delivered 450 HP airflow capacity from this turbocharger.

The Garrett TO4B compressor housing has a huge 4" opening for the compressor wheel to get plenty of air into its blades. Our carbide burrs are applied to both the inlet and the compressor discharge passages to eliminate turbulence and improve upon the aerodynamic efficiency of the compressor wheel. To finish off this modification to the casting's internal passageways, we have sanded the aluminum to a smooth finish for maximum aerodynamic improvement of the airflow generated by the spinning compressor wheel within the housing. Externally we have treated this housing to a full complement of sanding and polishing as well, to give it a show-stopping shine you can be proud of.

The turbine housing of this turbocharger is a .68 A/R T4-flanged casting that has an integrated V-band outlet on the discharge. We have ported the inlet and turbine discharge so that turbine exhaust flow is at peak efficiency and has no appreciable turbulence to restrict turbocharger rotor-group acceleration from essentialy instantaneous. The 3" outlet of the turbine discharge is appropriately sized to allow the most efficient exhaust flow possible, even beyond this turbocharger's horsepower supporting capabilities. Porting of this housing nets an increase in turbine response to the tune of a substantial 300 rpm even without the CHRA modifications this turbocharger contains.

Combining the modified CHRA components and the housing portwork yields an impressive 500 rpm sooner boost buildup throughout the rev range and quickens response to throttle inputs. Since the compressor wheel is a low mass TO4B casting being driven by a highly efficient Borg Warner P-trim wheel, overall turbo response is both extremely fast and very linear. This turbocharger is ideal for a responsive engine build that requires a turbocharger to respond with essentially electric-motor precision. Peak compressor efficiency of the V-trim wheel is within the 15 - 25 psi boost range so it makes this turbocharger perfectly suited for a pump-fuel tuned engine. Any engine of 1.8 Liters and larger displacement is an ideal platform for the use of this V-trim turbocharger in developing 450 HP.

Included features:

- Compressor dimesions - 2.18" inducer, 2.75" exducer
- Turbine wheel dimensions - 2.49" exducer, 2.89" inducer
- Blueprinted CHRA
- Unique Garrett/ Borg Warner combination
- Borg Warner P-trim turbine shaft
- Ported compressor & turbine housings
- Ceramic-coated turbine housing
- 3" v-band turbine discharge
- .68 A/R turbine housing
- Polished compressor housing exterior
Price - SOLD! *1-Year Warranty*
High power from a modest exhaust flow is what this turbocharger combination is all about. This is a sturdy combination of a Turbonetics STG-V turbine wheel and Garrett (T-Series) compressor aerodynamics to produce a highly capable 600hp to 1000hp turbocharger. The compressor backing plate, wheel, housing, turbine housing, and bearing assembly are all brand new (Garrett) components, while the turbine wheel is a 'big-shaft' remanufactured original Turbonetics item. CHRA components are Garrett and incorporate an upgraded 360 degree thrust surface and fully blueprinted bearings and turbine shaft.
Each of the journal bearings has a 360 degree oil channel for full-time oil delivery to the shaft journal surfaces. Polished thrust surfaces complement the bearing journal treatment for the ultimate in lubrication effectiveness, bearing cooling, and lower friction. This results in a 30% lower friction level within the CHRA and faster turbocharger boost response.
The brand new authentic Garrett exhaust housing features a fully ported, undivided .63 A/R entry and 4-bolt outlet configuration. Owed to the selection of a STG-V exhaust wheel and an aggressively-trimmed 76mm compressor wheel, this combination delivers strong midrange and spool-up characteristics with heavy-hitting airflow capacity. The tried-and-true Garrett T-series compressor wheel aerodynamics are matched with careful porting (to ensure a smooth internal passage for the boosted airflow to travel in) of the compressor housing for peak efficiency. This turbocharger features a large 4" compressor inlet, T-3 flanged exhaust inlet, and a 2.5" compressor housing outlet.
This turbocharger is easily matched to a modest displacement engine of just 2.0 Liters or larger and offers massive airflow with very linear response and durability. It can deliver high airflow in the 10 - 25+ psi boost range with ease making it simple to tune for on pump fuel. With its compact width (about 8 inches) and short overall length (close to 11 inches), it can be fitted easily on an exhaust manifold with a T3 inlet flange. Ideal for tight automotive engine bays and motorcycle engines from 1000 cc and larger. The option of a TIG-welded 3" or 3.5" V-band outlet on the turbine housing can make connection to the downpipe a very efficient high-flow affair as well. The ported housings help to deliver the very best performance and response for the exhaust gas energy available.
Price - $1,046.92 *1-Year Warranty*
Supertech forged piston set for a Mitsubishi 4G63BT engine complete with a set of rings in a 85.5mm overbore size. This set of pistons features a 4032 aluminum alloy forging that has been precision-machined on CNC mills by Supertech and then Phosphate-Coated on the entire exterior for durability and protection from the effects of combustion heat.
We offer up this 630 HP T4 turbocharger that is a uniques combination of Borg Warner and Garrett components. This 61mm turbocharger features a ported shroud (anti-surge inlet) compressor housing for outstanding compressor efficiency and surge damage protection. This fully ported turbocharger offers up the very best response and power in a compact T4-flanged combination.
This is a full set of 8 Black-Nitride coated 2mm over intake valves for the 4G63 2.0L turbo engine. These Supertech valves are the best flowing solution for a 4G63BT build that needs to flow as a much air into the cylinder as possible. The valve stem just above the head is cut down to be thinner for better airflow past the valve and lower weight for higher engine RPM capability.
Supertech set of 8 Inconel exhaust valves for a Nissan KA24DE (custom-built turbo) engine. These 2mm over valves offer the highest temperature resistance from their Inconel 718 alloy material. Supertech swirl polished the backside of the head and the tips are hardened as well. These valves are critical to get the most exhaust flow out of a KA24DET.
This is a set of Stainless Steel buckets for the Nissan KA24DE engine from Supertech. These hardened buckets provide a more lightweight and stable interface in between the camshaft lobes and the valve tips. With these bucket the valve lash clearance can be adjusted and the engine will have less valvetrain mass for a higher RPM capability. If you have aspirations of a 8000 RPM redline these are what is needed on top of the valves to follow the camshaft lobes properly.
Price - $ xxx.xx
Supertech hardened Steel valve bucket set for the Nissan KA24DE engine. This is a complete set of 16 buckets which upgrades the valvetrain to a solid arrangement that can valve lash clearances adjusted. Absolutely necessary for a high-RPM built KA24DE cylinder head.
The factory 1JZGTE intake manifold is nice enough to look at but horrible in terms of how well it flows air into each of the 6 cylinder head ports. These manifolds were cast for a compact engine layout and high velocity port flow by means of small runners. The runners all converge towards the center of the plenum, which is not so bad, but the casting quality inside this area is pretty much the worst possible for flow efficiency. Since the 1JZ needs as much torque as can be had we have taken the approach of retaining the factory Toyota long-runner layout that is modified to have better runner entries, a larger surge tank volume for higher airflow capacity with turbo upgrades, and fully ported runners for the ultimate in airflow efficiency and power. Exclusive Turbosystems has much experience with modifying (Supra) intake manifolds so this is only a challenge for us to overcome.
We begin the modification procedure of this manifold with the porting of they lower 'injector base runners' and the main curved runner castings. The object of our porting is to make each runner much smoother internally, more uniformly matched to each other as far as airflow characteristics, and to form a slight taper for improving cylinder port filling and velocity. We remove the runner merge area of the plenum chamber to eliminate the horrific entry casting out of the augmented design. Most of the plenum chamber is cut away as well so that a sheet-metal surge tank and base plate for the runner entries can be welded into place on the runners. Only about 1.5" is removed from the runners to retain as much tuned length as possible for generating higher airflow velocity and engine torque. This section is replaced by a plate with 6 bellmouth entries for each port that we form with extensive TIG welding. In addition to the bellmouth entries, a significant amount odf additional aluminum material is welded onto each runner below the surge tank area so that we can open up the internal passages with porting. These runners can then be shaped into a distinct taper to boost velocity through the port. Another alteration of the original Toyota design is the straightening of the runner entries to eliminate the curve backwards of the casting as the ports merge with the plenum chamber. All of this effort is invested in the interest of making the manifold more efficient at turning the plenum's air mass into a high-velocity charge which can quickly fill each of the 1JZ's cylinders, thereby improving throttle response and torque.
The surge tank area of this manifold is removed but the idle control valve mounting pad, brake booster, throttle cable mounting bracket pads are retained. These are grafted into a hand-formed, sheet-metal plenum with 40% more interior volume, and a shape that is tapered from the throttle body flange rearward. This fabricated surge tank offers much better cylinder filling because of the reserve of air available for each port at higher engine RPMs, and higher levels of upgrade turbocharger tuning. The base of the surge tank is comprised of the runner bellmouth entries which are TIG-welded onto the rest of the plenum along with the idle control and brake booster mounting pads, and the throttle cable mount bosses. After all of the TIG welding is complete we sand the entire exterior of the manifold, both the injector base and the runners and plenum, and remove excess casting material. The buffing compound is put to work on the manifold surfaces to bring out a lustrous shine.
This modified 1JZ intake manifold will deliver impressive torque much closer in output to the 2JZ engines because of the vastly improved cylinder-filling. Upper RPM power is expanded and well because of the larger runner entries and the ample surge tank capacity. This is the perfect upgrade manifold for 1.5JZ engines and well-tuned 1JZ alike. A perfect complement for the breathing capabilities of the 1JZ intake ports. The 'liquid-metal' polished finish of the finished piece will make you proud to show off your engine as well.
Price - $ 1391.67
Exclusive Turbosystems offers this Garrett 56-Trim turbocharger with a v-band outlet on its twin-scroll inlet turbine housing. This turbocharger has been fitted with a .82 A/R turbine housing that has a 3" v-band outlet TIG-welded onto the turbine outlet, and fully ported on both the inlet and discharge. The compressor housing has been carefully ported as well to get even more airflow out of the compressor wheel. This is a 450+HP capable turbocharger that delivers astounding midrange airflow and offers a durable solution for smaller displacement engines requiring a T3 inlet flange.

At the core of this turbocharger is a 55mm (TO4E) compressor wheel spinning away on the opposite end of a genuine Garrett STG-I 49mm Inconel alloy turbine wheel. A pair of modified journal bearings support the shaft and an (upgraded) 360 degree bearing handles the thrust loads. Each of the journal bearings features a full-circumference oil channel to assure optimal lubrication of the turbine shaft at all times. We polish every journal surface of the turbine shaft and thrust plate to increase durability and reduce friction. These modifications result in a 600 RPM quicker acceleration (spool-up) of the rotor group components. To further improve the efficiency of the CHRA we polish the backplate surface so that the airflow from the compressor wheel has as little turbulence as possible upon entry into the compressor housing discharge passageway.
With the .82 A/R turbine housing and the porting applied to both the compressor and turbine housings, this 56-Trim makes the most efficient use of the Garrett turbine wheel. The STG-I turbine wheel has proven to exhibit low inertia and has a sturdy bladeform for both good rotor group acceleration and durability. This turbine wheel is the backbone of several OEM automotive Garrett turbocharger fitments such as the Lotus Esprit, Ford XR4Ti, Pontiac Trans Am, Saab 900, the Dodge Omni GLH, and several other Chrysler K-car models to name a few. Every one of these vehicles will find this turbocharger to be an excellent upgrade. It has a twin-scroll T3 inlet on the turbine housing and a compact 3" v-band flange welded onto the housing outlet. This housing delivers the best gas velocity at the blade edges for the ultimate in turbine wheel efficiency, especially once ported by our experienced specialists.
This Garrett T3/T4 hybrid is the perfect turbocharger for smaller engine displacements from 1.5 liter to 3.0 liters tuned for pump-fuel boost levels that require quick boost response. It is an excellent upgrade for most any T3 turbocharger originally fitted to an automobile offering superior boost response, airflow delivery, and efficiency.
Included Features:
- Garrett TO4E 56-Trim compressor wheel
- Blueprinted CHRA
- Fully polished compressor housing exterior
- Ported turbine & compressor housings
- 3" V-Band turbine housing outlet
- .82 A/R T3 turbine housing
- Twin scroll turbine housing inlet
Price - $767.94 *1-Year Warranty*
This is where we present some items that are from projects in the past, one-off turbochargers, and various items our clients wish to sell to other enthusiats. Most of the items are new and in the case of the turbochargers, carry a full warranty. Every turbocharger has ported housings even if it isn't pictured, that is how it will arrive on your doorstep. The compressor housings are also fully polished as well, just like all of our Signature Series turbos listed on the site. Every one comes ported and polished, guaranteed! Take a good look at what we have on sale here, some of these items are just too unique to list on the site but may offer a great value for your build. If you have an offer for one of these items please email us directly for a prompt response. All of the items sold for $200 and higher SHIP FREE!
Occasionally we come up with a great turbocharger combination in the 'lab' and are looking for some feedback on how well it performs. Some of the unique turbochargers presented here are developed just that way. Every turbocharger we offer is prepared to have a blueprinted CHRA and fully ported housings but some housing and rotor-group combinations are uniquely our own concoction. A couple of decades of experience gives a wealth of knowledge pertaining to what combinations will yield the best results. Some turbo specialists offer the same products for multiple uses, whereas we offer unique turbochargers which are more efficient in a particular application. Think of our turbochargers as custom-built for the best performance on certain engines, not just merely 'good enough' for a lot of engines. We are called Exclusive Turbosystems for a reason. Are you building a unique engine that isn't commonplace? An Alfa Romeo 2.5l V6 perhaps, or a Lotus Esprit S4 even, we have just what you need most likely.
Garrett TO4E/T3 56-Trim 470 HP ported turbocharger - $817.53
This is a simple T3/T4 hybrid based on a TO4E 56-Trim compressor section and T3 STG-III turbine wheel
combination. This turbocharger is easy to install with a compact 3" compressor housing inlet and 3" V-
band turbine housing outlet. The 55mm compressor wheel affords quick boost response and delivers
Enough airflow to support well over 425 HP with peak efficiency between 10 - 25 PSI. The authentic
Garrett STG-III turbine wheel ensures excellent responsiveness from smaller displacement engines from
1.5 - 3.0 Liters. We have built his turbocharger with an (upgraded) 360 degree thrust plate and modified
journal bearings for additional oil flow, cooling, and durability. The turbine shaft's bearing surfaces are
polished for lower friction as well. Both the compressor and turbine housings are fully ported for the
best aerodynamic and thermodynamic performance possible. The exterior of the compressor housing
has been polished to a brilliant shine and the turbine housing has been treated to a ceramic-based
thermal coating.
By using a .63 A/R turbine housing for the Garrett STG-III wheel, this combination delivers incredible
boost response and midrange power. There are a host of improvements we have made to this housing
for the best possible efficiency and power delivery. First of all, both the inlet passage and the turbine
discharge are ported for the ultimate in gas flow through the casting. This has the effect of speeding up
the gasses traveling through the housing and minimizing turbulence being introduced into the turbine
wheel blades.
Garrett T76 76mm/P-Trim 1000+ HP ported turbocharger - $955.91
Capable of supporting 1000 HP, this 76mm turbocharger has a large TSO4 sized compressor section
coupled to a P-Trim T4 turbine wheel.
CyBorg Borg Warner/Garrett 54-Trim/T3 400 HP ported turbocharger - $791.49
For a simple 400 HP solution that has to have a T3 inlet flange and very lively responsiveness the CyBorg turbocharger is an easy choice.

Garrett 67mm Billet Compressor TSO4/STG-V 885 HP Ported Turbocharger - $1391.52
This is a special combination of a billet 67mm compressor wheel and a STG-V turbine wheel for a fast-spooling T3/T4 hybrid that will support nearly 900 HP.
Here we have a rare Audi KKK K26/K27 hybrid upgrade turbocharger. This special combination features a bolt-on option for an upgraded Audi powerplant originally fitted with a K-24 turbocharger. It combines a 53mm compressor wheel with a Porsche's 944 spec turbine wheel for a serious 440 HP airflow delivery with excellent response. The ceramic-coated exhaust housing and fully polished compressor housing set this turbocharger apart as a truly unique option for your classic Audi.
This is a rare combination amongst turbochargers. It features proven OEM level components combined in a unique configuration for a performance oriented use on a classic Audi vehicle. We have been accumulating select turbocharger cores for years and this combination of KKK turbocharger components just plain makes sense. There are precious few upgrade options for the older Audi turbocharged vehicles, especially those based on KKK components. The larger compressor wheel and turbine wheel afford much improved airflow delivery for even a lightly modified Audi powerplant, with plenty of airflow for 20+ psi tuning when you want. This is a fully ported and extensively modified turbocharger that has been custom built for performance applications from the inside out. We offer it here on the 'Garage Sale' as a premier option for the loyal Audi enthusiasts out there. This one is one of our favorites so if it doesn't move within a month we'll set it up for use on our Porsche 931! This turbocharger is a 'keeper'.

The CHRA is a OEM spec Porsche 944 turbine wheel mated to a K27 compressor section, fitted within an authentic OEM Audi KKK bearing housing. The shaft is supported with a pair of journal bearings which we have modified for increased oil flow to the turbine shaft surfaces. Each bearing has a 360 degree lubrication channel to improve delivery to the turbine shaft bearing journals. The heavy-duty thrust plate is a more robust 360 degree upgrade which can take the pounding of up thrust loads up to 2-BAR with ease. We've improved upon it with oil port modifications that open up their passages and increase oil flow volume through to the plate surfaces. Each thrust pad surface is polished to increase its hardness further and reduce friction as well. This treatment is applied to the journal surfaces of the turbine shaft for a comprehensive reduction in CHRA internal friction by a minimum of 30%. These modifications have the net result of reducing spool-up time by 350 rpm and better, furthermore, the cooling efficiency of the oil flow is improved substantially too because the lubrication volume has been increased thereby lowering bearing housing internal temperatures. On the inlet side of this CHRA is a 6+6 blade 53 mm compressor wheel which can actually flow enough air to support 450+HP, only limited by the turbine wheel fitted to this turbocharger in the interest of retaining outstanding responsiveness. The backing plate has its surface sanded ultra-smooth and polished for added airflow velocity potential and compressor map efficiency.

Compressor housing modifications are extensive with this KKK K26/27 hybrid turbocharger. We port the compressor inlet to incorporate a perfect radius to reduce drag and turbulence introduced at the compressor wheel blades for easy air flow characteristics. The porting expands the compressor map efficiency, reduces the effects of any compressor surge, and improves airflow volume capacity, not to mention velocity. . Complementing the inlet porting is the same treatment to the compressor discharge for a combined net increase of 10% more airflow capacity. This porting also improves compressor response owed to the reduction in turbulence at the compressor wheel inducer. After our carbide burrs have been expertly applied to the casting inlet and outlet the more consistently radiused shape is sanded smooth. The same is done to the exterior of the casting to prepare it for the buffing wheel and compound. Since this turbocharger no longer contains the K-27 turbine wheel, bearing housing components, or turbine housing, the ungainly serial plate is eliminated and the casting boss sanded flush with the compressor scroll casting. Call it advanced weight reduction, call it simplification, call it cleaning it up, all of it means a better looking turbocharger for your tuned Audi. The polished exterior is easier to keep clean, harder and tougher, not to mention very appealing visually...

For the all-important turbine housing we have selected the 6cm housing as it offers the best turbine acceleration characteristics possible. This housing is thoroughly ported to eliminate casting flash and the rough surface left behind by the casting process. After the extensive portwork, it now offers an ideal balance of strong gas velocity and large enough volume (the inlet scroll is opened up a few millimeters gradually tapering down toward the turbine wheel area) for low backpressure at the upper end of the turbocharger performance envelope. Following the appropriate amount of sanding of these passages, we treat the turbine housing exterior to a ceramic-based coating to keep the gas energy contained within the housing and reduce under-hood temperatures. This turbine housing is tweaked to deliver outstanding turbine wheel response and strong gas flow characteristics for midrange and top end airflow associated this particular KKK rotor-group component combination.

This is an excellent upgrade for a tuned Audi 5-cylinder engine as it will bolt up to the exhaust manifold. The fully polished compressor housing is nice to look at and makes it easier to fit in place where the K-24 used to be. Some clearancing may be needed but with more than 400 HP potential there has to be some compromise. Expect boost response to be strong and steady after about 2200 RPM, and midrange airflow delivery that will have you grinning from ear to ear every time you roll into the right pedal. This turbocharger will erase the weight penalty of a Quattro drivetrain with ease. This combination allows you to fully exploit the traction available with Quattro drivetrains giving you enough power to mimic a Group-B prepared car flying through a rally stage...

Included Features:

- Blueprinted CHRA
- 360 Degree thrust component upgrade
- Ported compressor & turbine housing
- 6cm A/R turbine housing
- Ceramic-coated turbine housing exterior
- Polished compressor housing exterior
Price - $867.00 *1-Year Warranty*
This is a sweet little Garrett 460 HP capable T3/T4 56-Trim combination which is fully ported and features a twin-scroll turbine housing. This turbocharger has a high-flow 3" V-Band turbine outlet and .82 A/R T3-flanged turbine housing for excellent midrange and top-end power delivery. With its smaller STG-I turbine wheel it has extremely fast spool-up making it ideal for smaller displacement engines .
Garrett TV-Series 76mm 1100 HP fully ported and blueprinted turbocharger. This T6 turbocharger has a 1.05 A/R turbine housing and will support 1000 WHP thanks to the aggressive porting of its compressor and turbine housings. The fully blueprinted CHRA features the same tricks we apply to all of our 'Signature Series' turbochargers so that it will spool-up faster and be perfectly durable at 3 BAR+ boost, making this a very tough and capable turbocharger.
Garrett V-Trim TO4B 450 HP fully ported and blueprinted T4 turbocharger. With its .68 A/R turbine housing and P-trim turbine wheel this a powerful TO4B turbocharger with a compact compressor housing and fast response. Perfect for small displacement engines that have to be tuned to pump fuel with its peak efficiency in between 10 - 20+ PSI boost.
This is a Garrett T76 1000 HP T4/T3 hybrid turbocharger based on both Garrett and Turbonetics components. This specially built turbocharger offers quick spool-up from the STG-V Garrett turbine housing and Turbonetics wheel matched to a high-airflow capacity TO4S 76mm compressor section. The T3-flanged turbine housing allows fitment onto small displacement engines. This fully ported turbocharger responds quickly and delivers excellent airflow with ease.
Unique Turbocharger Combinations
This is a Supertech forged piston set for a Mitsubishi 4G63BT engine complete with a set of rings and pins in a 85.5mm overbore size. This set of pistons features a 4032 aluminum alloy forging that has been precision-machined on CNC mills by Supertech and then Phosphate-coated on the entire exterior for durability and protection from the effects of combustion heat. This set of pistons has the Supertech piston rings included as well as the piston pins and locks for a complete package.
Price - $ 766.52
This full set of 2mm over intake valves for the 4G63 2.0L turbo engine will allow you to safely raise your RPM limit, make more power, and have better reliability with your built engine. These valves can be used in both Eclipse/Talon/Laser engines and in Evolution engines alike. A simple valve job is all that is needed to set up your 4G63T cylinder head for these high performance upgrade intake valves. The valve stem just above the head is cut down to be thinner for better airflow past the valve and lower weight for higher engine RPM capability. These valves are forged Stainless Steel alloy, with hardened tips for better durability and high-heat strength. The finishing and machining of these Supertech valves is impeccable. Each valve is individually packaged in plastic and ready for use out of the box.
Price - $144.00
Supertech set of (8) Inconel exhaust valves for a Nissan KA24DE (turbo) engine. These 2mm over valves offer the highest temperature resistance from their Inconel 751 alloy material. Supertech swirl polished the backside of the head which is shaped to enhance gas flow around the valve head once the camshaft opens it up into the chamber, and the tips are hardened for the ultimate in durability as well. These valves are critical to get the most exhaust flow out of a built KA24DET engine, and can take the high temperatures and punishment associated with a high-output turbocharged KA.
Look no further than right here for your KA24 turbo exhaust valves. To get the best performance out of the square exhaust ports of the Nissan 240SX cylinder head you need a high-flowing valve and port arrangement, especially if you are looking to get the strongest boost response out of a single turbocharger like our Samurai-R. These valves combined with some porting of the KA24 cylinder head will allow those big pistons to push out plenty of exhaust gasses to drive a turbocharger turbine wheel very well indeed. Perfect for the 500 HP - 900 HP+ built KA.
Price - $292.00
This is a highly sought-after 1JZGTE intake manifold that has been modified with a larger fabricated surge tank and fully ported runners. The bellmouth shaped runner entries and tapered runners improve airflow and velocity through the runners. The fully ported runners add airflow volume to support highly tuned 1JZGTE and 1.5JZGTE engines properly. We fully polish the exterior and eliminate the extra fittings, all for a clean finished metallic form that is just as much show-worthy, as it is ready for the track.
This is a special turbocharger combination only available from us at Exclusive Turbosystems. It offers a highly efficient compressor section matched with an immensely capable P-trim turbine section. The blueprinted CHRA has very low internal friction, improved lubrication (and cooling properties) as well as higher levels of durability. By combining a Garrett compressor housing and wheel design with a Borg Warner 'clipped' turbine wheel, this turbocharger stands apart in the performance turbocharger offerings now available. The ported housings combine to deliver the airflow associated with a ball-bearing turbocharger spinning at much higher shaft speeds.
For the CHRA of this unique hybrid we selected a Borg Warner P-trim turbine wheel that has been machined on its blades to allow extra gas flow. This 'clipped' turbine wheel is both lower in inertia and flows more exhaust gas. The Inconel alloy turbine wheel is a sturdy Borg warner design that offers state-of-the-art gas flow dynamics and unparalleled durability. The cast aluminum 61mm compressor wheel is a Garrett design which has a larger outer diameter and advanced 6+6 blade shaping, allowing airflow well beyond 61 lbs of air per minute. On this particular turbocharger we have polished the compressor backplate surface so that airflow exiting the compressor wheel blades enters the discharge scroll without turbulence. Airflow efficiency and overall volume is improved by this surface treatment as well. The journal bearings used to supppoort the turbine shaft are modified to incorporate a 360 degree channel for perfect oil delivy to the shaft surface at all times. The journal surfaces are polished on the turbine shaft for both low-friction and higher levels of surface hardness. A 360 degree thrust plate deals with the boost pressure loads imposed by the compressor wheel with ease. It is also modified with improved oil delivery and polished thrust surfaces. These combined modifications reduce internal friction in this turbocharger by 30% and improve durability.
The compressor housing features a large 4" inlet with a precision-machined ported-shroud cavity surrounding the compressor wheel for excellent resistance to damage from surge should it ever occur. The outlet is a generously sized 2.5" which allows maximum airflow to be channeled from the compressor wheel. Porting of this casting further improves airflow capacity by 15% and reduces internal turbulence with elimination of the sharp transition at the discharge. This compressor housing is an ideal match for the 61mm wheel allowing high efficiency, maximum airflow potential, and anti-surge characteristics. The exterior of the housing is treated to a thorough sanding to produce a uniformly smooth surface which is then polished to a high-luster shine that will impress anyone.
On the all-important turbine end of this turbocharger sits a .68 A/R T4-flanged housing with an integral V-band outlet. This affords an ideal balance of excellent turbine acceleration and high gas flow volume capacity. Put another way, this turbine housing delivers fast boost response and heaps of top-end airflow. The Borg Warner P-Trim turbine wheel spinning away within this housing is a unique offering Exclusive Turbosystems employs on a select few of its 'Signature Series' turbochargers. Not only does it offer up impressive gas flow capacity and efficiency, it also features Borg Warner's incredible durability owed to their thick Inconel-alloy blade-forms. Both the inlet and outlet passages are fully ported to maximize gas flow rates through the turbine wheel blades. The turbine discharge has a 3" V-band outlet which is integral with the housing and ported for maximum exhaust gas flow capacity. A ceramic-based coating is applied to the exterior of the housing for both improved thermodynamic efficiency within the casting and reduced underhood temperatures.

This is an excellent choice for a single turbocharger based setup that has to deliver 500 WHP at pump-gas levels of boost pressure. It is actually comparable to a dual ball-bearing GT35R turbocharger because of the phenomenal boost response of the blueprinted CHRA, upgraded compressor section components, and ported housing combination. The optional water cooled center housing allows coolant circulation through the turbocharger for the ultimate in durability and longevity. This turbo will spool-up like a BB turbo and deliver up to 540 WHP with ease without needing to be operated above 30 psi. For a single turbocharger based engine setup this delivers excellent value.
Price - $924.91 Water-Cooled Bearing Housing Upgrade - $974.91 *1-Year Warranty*
This is the 'ALIEN' intake manifold for the Toyota 2JZGTE 3.0 Liter DOHC turbo engine that gives the MKIV Supra incredible torque potential. We have modified the factory Toyota manifold significantly to offer the best velocity characteristics for generating massive amounts of grunt from the 2JZGTE. Incredible midrange and engine responsiveness is this manifolds forte, perfect for building gobs of torque for moving the (Supra) down the road and the track much faster than a manifold which has short runners.
Most of the aftermarket 2JZ intake manifolds are focused on generating high horsepower numbers. This is fine for dyno competitions, but these engines also need TORQUE To accelerate the MKIV Supra like it really deserves. Our solution for the 2JZGTE engines is to aggressively modify the factory intake manifold to produce more horsepower and prodigious torque. How would you like a 2JZGTE that easily produces 800 FT LBS of torque when tuned to 1000 HP, how about 850 FT LBS? Got your attention? This manifold has good runner length as cast from Toyota, but the plenum volume and internal runner shaping need some attention to support what a highly-tuned 2JZGTE can really produce at the rear wheels. We take a 2-step approach towards achieving this outcome. The runners are ported and massaged quite aggressively, and the plenum is modified to incorporate a much larger surge tank capacity and improve the runner entries as well.

As far as the runners go, we open up the internal passages as you would expect but we take it one step further by making sure the entry of the runners is much larger in area than that of the factory casting to form a more pronounced taper. This increases the velocity of the induction airflow in all throttle positions and engine load points. We actually have to TIG-weld some additional aluminum onto the runners close to the plenum itself so that we can open up the interior and shape it to our standards. Of course the manifold will support higher airflow and the 2JZGTE will support impressive horsepower but it will now also be more responsive and deliver stronger torque because of improved cylinder filling efficiency. Each of the 6 runner entries is shaped into a bellmouth form to allow a uniform low-turbulence airflow path into the cylinder head. Anyone can graft on a larger surge tank (plenum) which will support higher HP, but even with ported runners it will not be the best solution without specific shaping of the runners to build a distinct taper and more efficient entries. Yes, we do shorten the runners to adjust the tuning of the intake manifold towards higher engine RPM ranges, but we only reduce the length by about 2 inches overall. This is crucial to expanding the torque curve by retaining the longer runner length close to the original Toyota design, while allowing for much higher horsepower potential once massive amounts of boost are introduced with tuning. The shorter runners are also a more direct path to the cylinder head because we don't have the runners curving backwards like the factory casting. This is another important detail that improves induction efficiency both on, and off boost. All of these and subsequent improvements will enhance engine efficiency and will bring the turbo up to speed faster as well.
Surge tank modifications are extensive with this manifold. It is larger by about 40% in volume and has a tapered shape to feed the 6 runners equally from the front to the rear. Our design goal is a better balance of cylinder filling and port velocity improvement with or without boost pressure. The runner entries are formed with built-up aluminum material on a plate which is welded onto the runners themselves of the 'upper' manifold. This allows us to expand the opening considerably into the desired entry shape. These bellmouth entries are the hot-ticket for getting air into each runner without adding turbulence and aerodynamically efficient. Throttle response is so good with this manifold that you will fall in love with your 2JZGTE all over again. The larger surge tank will feed those runners a larger volume of air easily so that 1000 HP+ tuning will be easier to achieve. The plenum itself is fabricated from many hand-formed aluminum panels which are TIG-welded onto the runner bellmouth plate and throttle body flange. We incorporate the factory idle control mounting pad and vacuum ports for the brake booster and other engine controls so that you can have a true upgrade without much hassle for fitment. Much effort is invested to making each weld of the factory casting pieces blend in with the sheet-metal aluminum panels on the plenum. All of the interior is ported and smooth. From the throttle body flange to the rear of the plenum is sanded uniformly smooth. This is no grafted-on-metal-box plenum, instead each manifold is hand-crafted to fit your layout. The throttle body flange can be the OEM Toyota casting pattern or a larger opening for a 90 mm or 100 mm throttle body if you'd like.
After all of the metalwork is done to shape the runners, the entries, and the plenum, and the TIG welding is complete, the entire manifold is sanded smooth. The exterior is polished to a high-luster finish that is sure to turn heads. That's the plenum surface, and the runners too. This treatment has made quite an impression on the Supra community throughout the years and we are proud to continue producing the 'liquid-metal' look for this manifold.
This '2JZ ALIEN' manifold is really the best overall solution for tuning the 2JZGTE induction for torque. This will allow you to enjoy better engine response and turbo spool-up even at modest boost levels. With larger turbocharger upgrades you will really be quite pleased with the improvement in torque and acceleration. Since we are using your manifold as a base, the original fitment on the cylinder heads is retained as well as the lightweight attributes of the Toyota casting, and much of the original engineering that was invested in the design. The World-Class presentation of this hand-formed, custom-modified upgrade manifold is a nice bonus added to the performance.
Price - $1,486.88 (OEM throttle body opening) - $1,554.75 (Larger 90/100 mm TB flange)
Performance Turbochargers